Halloween brings us so many great things – tricks and treats and lots of fun! If you panic at the thought of making costumes though, we're here to help. These easy DIY costumes will make your kids and your budget happy!
These costumes use both props and costume accessories to pair with clothing pieces you can purchase or might even have at home! We'll try to link to as many items as possible to make your costume-making as quick and easy as possible!
This post does contain affiliate links meaning purchases made through included links may result in Splendry earning a small commission at no cost to you.
5 Easy DIY Costumes for Kids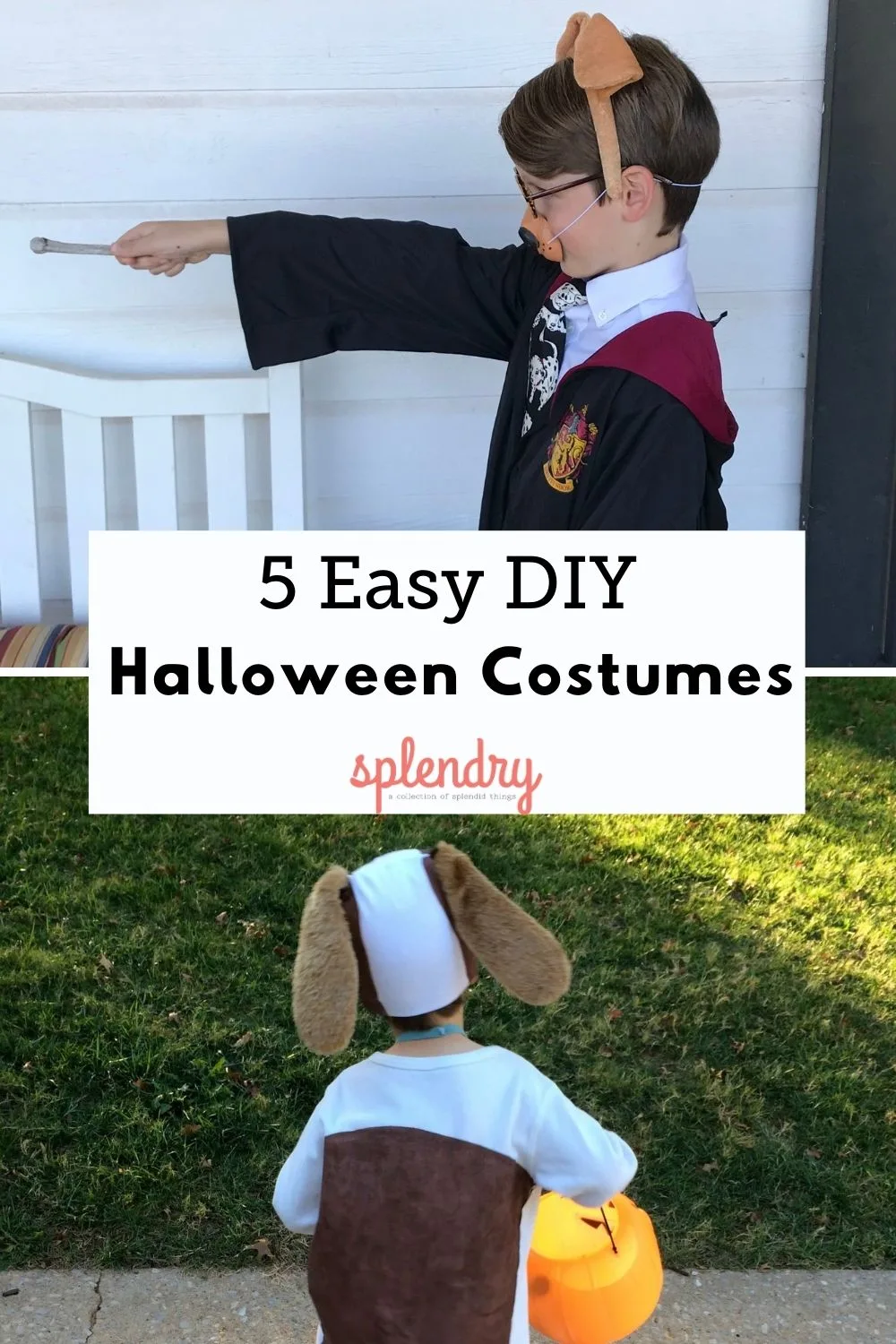 1. How to Make an Easy DIY Charmander Costume
Do you have a Pokémon fan in your home? This is an easy costume of a fan favorite.
When my son chose this character, there were actually no full kid costumes to be found (2015) other than the hat and tail (linked below). So, we used that as our main base, then put together the rest!
What we used:
For the shirt:
Line up your yellow fabric to the bottom hem of the shirt front.
Cut your yellow fabric into a large, elongated oval – rounded side up – for the belly.
I did a light hand stitch all around the edge of the yellow fabric to secure it to the shirt. You could also use fabric glue spray or go for the full sewing machine.
For the tail:
Instead of using the elastic strap on the tail, we safety-pinned it to the pants so that it would look more 'authentic'. You could also cut a slit in the pants to hide the elastic.
We bought gloves and socks at Walmart and…
Done!
Such an easy costume and one that's going to be a hit with Pokémon fans!
2. How to Make an Easy DIY 'You and Me' Puppy Costume
Make a copy of your child's favorite furry friend.
What we used:
My son wanted to be a puppy that looked just like his favorite stuffed animal. We went to our local hobby store for supplies.
For the hat:
First, I cut two slits in the top sides of the hat.
I painted the spot on the hat with brown fabric paint.
Next, I cut the ears off of the headband, and inserted the fabric between the ears into the slits on the hat.
I used fabric glue to secure the headband fabric to the inside of the hat.
For the body:
I outlined my spots on the shirt and pants with a pencil first, then got to work painting! It took a couple of coats. I purchased pants that were intentionally too long so that we could use the length to cover my son's shoes.
Done!
3. How to Make an Easy DIY Harpo Marx Costume
Bring back the comedy of the early 1900's with this classic entertainer.
My kids were immersed with the slapstick ensemble, the Marx Brothers, through my husband and his brother – watching most of the group's movie career and loving it. My oldest son chose to be Harpo Marx, the silent, goofy Marx Brother.
What we used:
The clothing items – shirt, coat, tie, and hat – were picked up at a local thrift store.
We actually already had the wig, but this could be found at a party store or online.
Props included an oversized pair of prop scissors, clown horn, and my son's silence all night long!
Such a fun costume!
Done!
4. How to Make an Easy DIY Hairy PAW-ter Costume
A 'punny' twist on one of our favorite wizards.
What we used:
This costume is pretty self explanatory, and my son had fun putting this together on his own.
The wizard cloak was previously purchased at Target, so we got to repurpose!
We found the dog bone, ears, nose, and tail at a party store.
Done!
5. How to Make an Easy DIY Dipper from Gravity Falls Costume
For the tween who loves the quirky stories and mysteries of Gravity Falls.
What we used:
Dipper is one of the primary characters in the Disney series Gravity Falls. My sons are currently obsessed with this show, so my youngest put together this costume for Halloween. The key items are the hat and the book.
For the hat:
He loves art projects, so he wanted to paint his hat. We picked up a white cap at a craft store and some blue paint.
With a pencil, he sketched the pine tree and the outline for the back half of the hat to be painted blue, then painted.
The book:
The book is a key part of the series, and you can actually purchase the book of mysteries just like it is in the show here! It's a fun book to actually read, too!
Grab the clothing items from the closet, borrow from a friend, or run to a local thrift store.
Done!
These easy DIY costumes were not only a cinch to put together, they're super budget-friendly too!
Do you still need more ideas for easy DIY costumes for kids? We've got them! And if you're a Dog Man fan, you'll love this easy costume too!