We hope this post on the best communication apps helps you out! Whether you need to coordinate with groups of friends or work colleagues, these should help!
In this day and age getting a hold of someone is often as easy as knowing someone's Facebook, Skype, or phone number. But for large groups that require coordination and communication between a lot of people sometimes you need something with a little bit more oomph.
Whether it be for work, party planning, team organization, or community building these applications will help prevent long email or text chains (that someone is invariably accidentally or 'accidentally' left out of) or the need for separate groups to be created for content only needed by select members. They are all Instant Messaging, real time applications which means that messages are automatically sent and there is no delay.
Best Communication Apps
Slack is a platform for the workplace, it has the ability for individual users to sign into multiple groups or "workspaces" and the ability to have multiple channels which members of that workspace can choose to join or leave depending on if they want to be in that channel or not.
Members can also message other members of the workspace separately in Direct Messages that can't be viewed by other members in the workspace. These functions allow teams to divide and conquer effectively so that people don't get bogged down in superfluous information, but everyone is still easily accessible to their teammates.
While work should definitely stay at the workplace, Slack can also be used for teams (this picture was actually my High School Debate Team Slack) so I added the app to my phone so that I could receive notifications if something important happened.
Slack also has the ability to turn messages into tasks or to be reminded about a message in another 30 minutes, 1 hour, etc. as well as many other helpful features to ensure that the most important parts of the conversation are noted down.
Finally, the reason why Slack is top on this list is its integrated file sharing: members can share files from their google drive, personal computer, and Dropbox which makes it especially useful.
Discord is advertised for gamers, and while many people use it anonymously online for various online communities it is also a great platform with a variety of useful features and can be accessed in a browser, and as an app on the phone and computer.
Discord gives its members the ability to join and create servers with different categories and channels in each server, as well as voice chats with members being able to mute notifications from select channels or categories. Each category and channel in a server can have its own permissions making it easier for team leaders, coaches, senior staff, or teams dedicated to a specific function to access specific areas. All of these features help organize the flow of information to be more manageable.
Discord also has a direct messaging system, and the ability to create small groups in personal chats as long as the two people are part of a common server or have friended each other. Both Discord and Slack have are compatible with bots which make having large groups more manageable and fun. Some of the largest Discord servers have over 200,000 people, but the application works well for groups of less than even 10. While geared towards gamers Discord has the potential to be a great communication platform.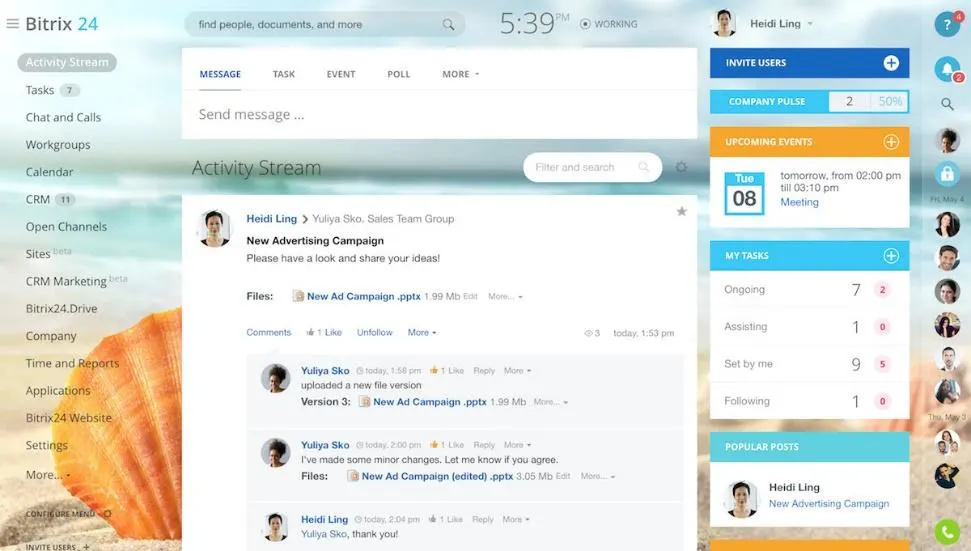 Bitrix24 is the only application on this list that I haven't personally used and requires a monthly fee to gain much traction on. There is a free version, but it only allows 12 members and 5 GB a month with limited access to its features.
However, it made the list because of its variety of features not as well represented in the other applications listed here: video chat, calendars (group, shared, and private), access to external users, online payments, and website creation.
While the above applications can be used for personal communication for teams and communities Bitrix24 is geared specifically towards the workplace. Bitrix24 is also available as a mobile app.
Have another recommendation for one of the best communication apps? Let us know!
Originally published November 7, 2019