A couple of weeks ago we made our first trip to The Gathering Place in Tulsa at Riverfront Park. I have had many friends check out the Gathering Place and all raved about how amazing it was. I have to say, I was not disappointment in the slightest!
It really was as fantastic as everyone said. If you haven't heard, the Gathering Place is a free, yes free, five acre attraction with gardens, play grounds, sport courts, splash pads, ponds and multiple restaurants. There really is something for everyone here.
pin pic
Planning your trip to The Gathering Place
To start I recommend parking near 31st street. This will be right by the skate and bike parks and sport courts. The walk to the Adventure Playground from this parking lot is short.
There is not a lot of parking right by the Adventure Playground and what parking there is gets filled really fast. You'll walk through the Four Season Garden and by the Sky Garden. Feel free to stop and explore, it's all so unique.
Then you will come across Swing Hill. There are a variety of different swings to try and a different log area to climb on. My kids could have stayed just at this area for the better part of the day. Every turn has a different hidden area it seemed.
Next you will come across the Boathouse. The top floor is a restaurant that is open to the public. It also has some tables with seating for those just wanting to enjoy the view. The bottom floor is a museum with free indoor activity for kids to do and cool off for a bit, and this is where some of the bathrooms are located.
Then, make your way over to the Adventure Playground which itself has multiple areas to it. They have a water area, a sand box and multiple climbing places for all skill and ages. There was also a mirror maze and stages too. There are more bathroom and picnic areas at the Adventure Playground.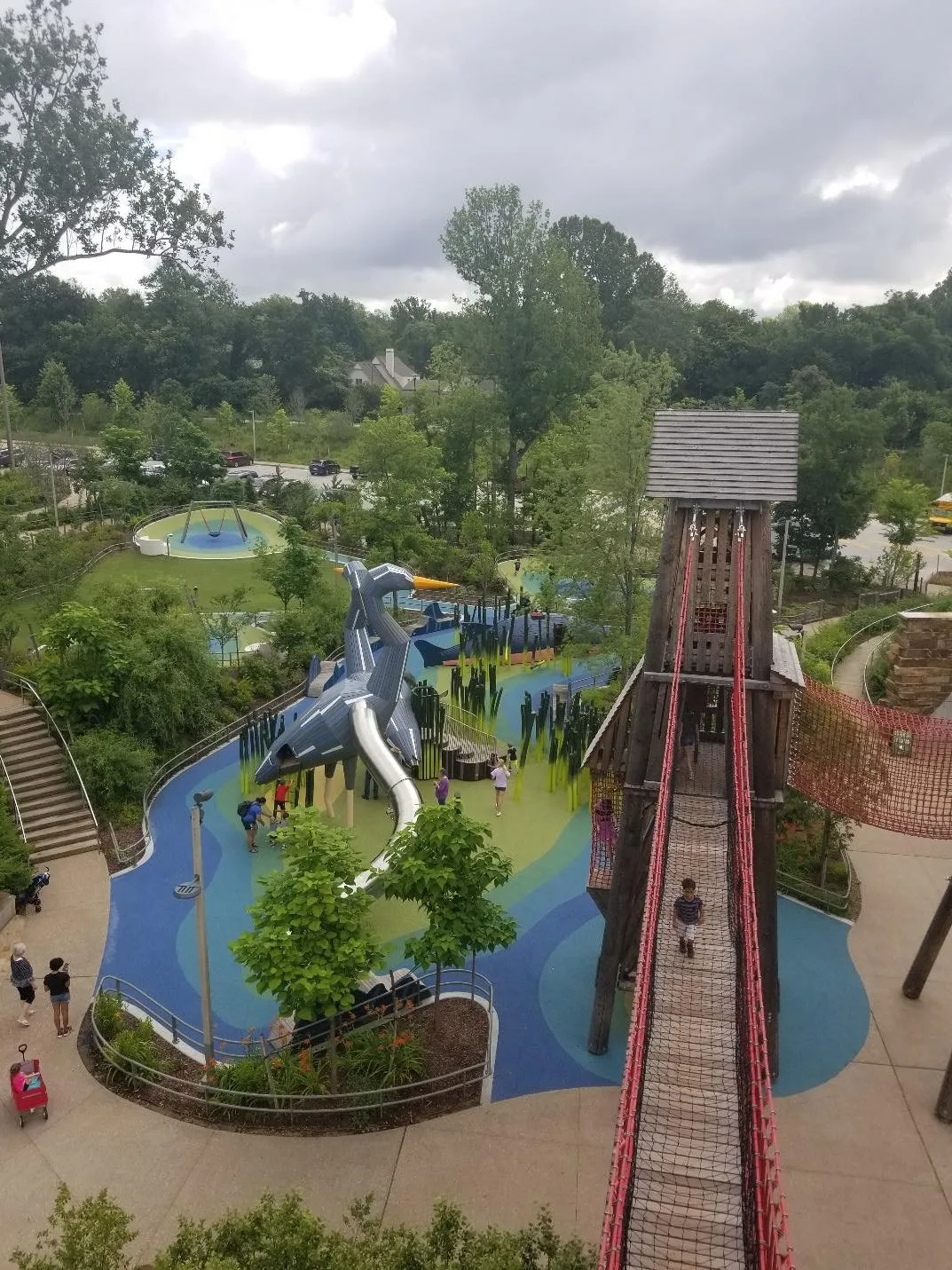 If you keep walking you will find some smaller climbing areas that look like little houses. My little kids really liked these, plus, even more swings!
If you are ready for lunch head to the Lodge and the Patio where you can grab a bit to eat. The Lodge has free Wi-Fi and is a great place to rest in air conditioning. Redbud Café is on the bottom level and has coffee and ice cream.
Right outside the lodge is Mist Mountain, another place to cool off. Then you will see Peggy's Pond, a three acre pond with a beach and lounge area, that also has kayaking and canoeing. As you enjoy the wetland gardens, walk around Peggy's Pond to Slide Vale. This was another one of my kid's favorite areas. There are a lot of different slides to go down and as a plus, it's shaded!
All of the Gathering Place is decorated so beautifully and I can't wait to watch all the vegetation grow in. There is so much to do here you can easily spend an entire day just exploring and playing and not get to it all.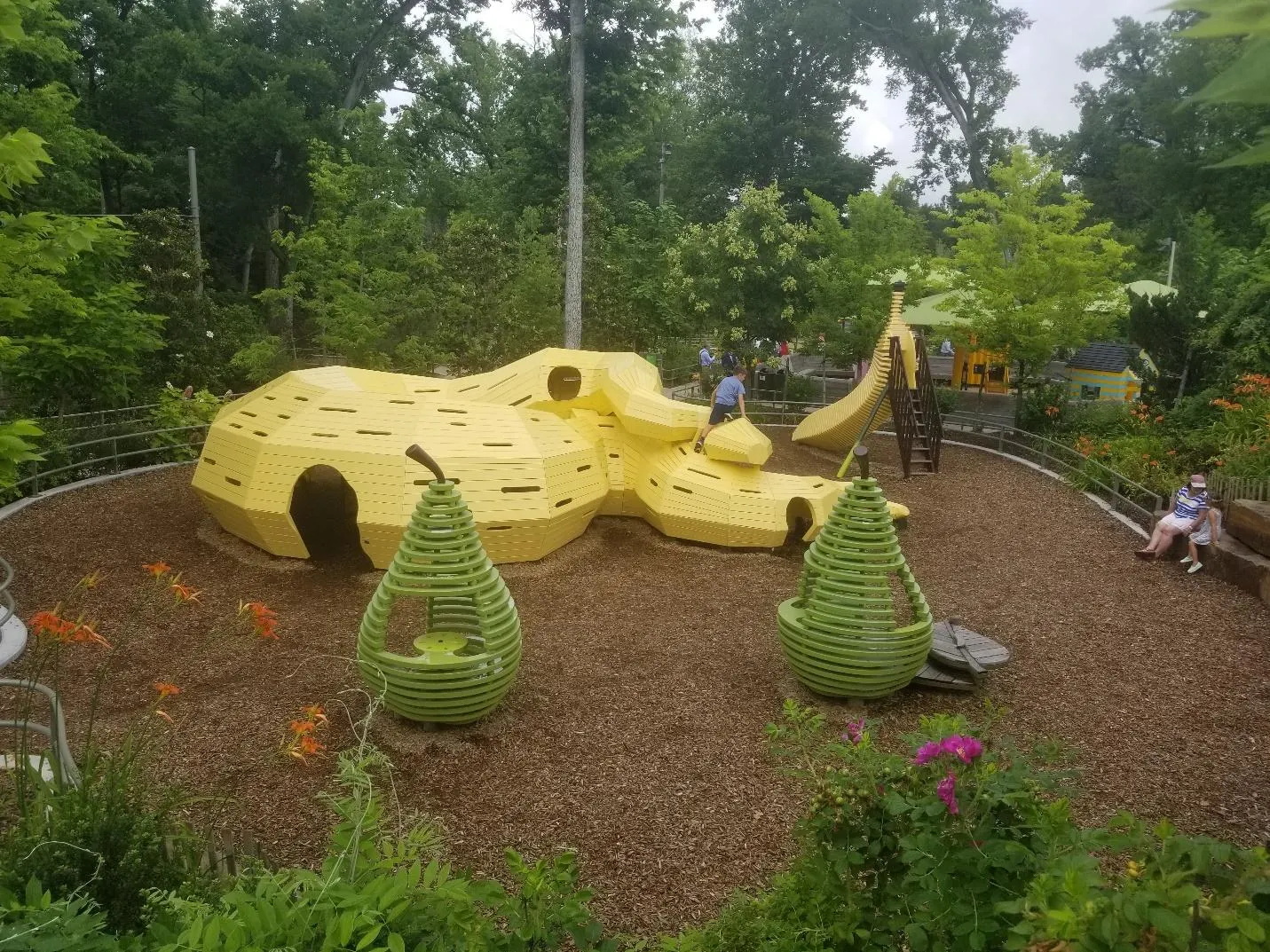 Did I mention this is all free?! If you haven't been to the Gathering Place in Tulsa, this should definitely be on your list!
Want another awesome attraction to check out in Oklahoma? How about going digging for crystals?