We recently spent a day at the Perot Museum of Science in Dallas, TX and we loved it so much I thought I would share our experience. This multi-story museum in the heart of Dallas has a lot to offer the whole family. From earthquakes to space to dinosaurs to the human body; it's the perfect place to satisfy your curiosity about the natural world.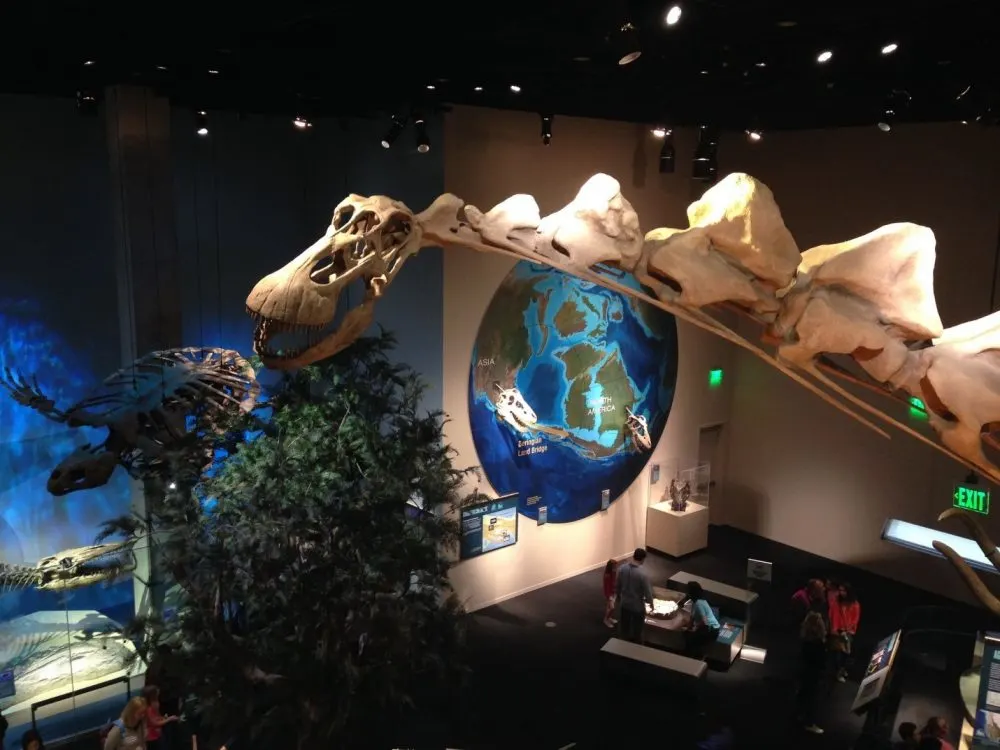 Highlights:
My kids loved the dinosaur exhibits; they especially enjoyed the game where you get to design your own predator. Texas has a ton of fossils lying around so there are some really good finds. There were some skeletons of aquatic animals that I had never seen anywhere before.
A surprise favorite exhibit was the Gems and Minerals hall. They have some absolutely gorgeous things on display and my 5 and 8 yr. olds loved using the interactive displays to discover where each gem was found. Throughout the museum I was impressed with the knowledgeable staff that were always ready to jump in and answer questions about what the kids were seeing or assist them with interactive activities. There's a really good balance of education and fun and games.
My older daughter was thrilled with the BioLab, which allows kids to run their own experiments just like a real scientist. She really enjoyed looking at her cheek cells under a microscope. The wait to participate in the experiments can be long (we waited 30 mins) but it's worth it.
Will my kids like it?:
I feel like 1st graders and up will enjoy the experience the most. I will be honest this is not a museum that I would have enjoyed as much if I were hauling a stroller around. There are elevators but the stairs and escalators were much quicker to navigate. There are so many interactive activities and I think kids will enjoy them more if they are old enough to read. My 3rd grader was really the perfect age because she is currently studying so many of these subjects in school. On the other hand they have an adorable children's museum on the bottom floor that is only for ages 5 and under so my kids had to miss that. There is plenty for little kids to touch and do they just may not pick up on all of the information.
Tips:
Go early in the morning to avoid long lines. We arrived at 9:30am to buy tickets before they opened up at 10:00am. This museum is incredibly popular, especially on school breaks and weekends.
Stay nearby. There is no fast way to get anywhere in Dallas especially at peak commute times. We stayed at a hotel a few blocks from the museum and it was so nice to not have to rush around that morning since we were just a few minutes away.
Eat Early. This museum takes a good portion of the day to see so chances are you will end up eating at the museum café. I would plan on an early lunch and then you can maybe get a snack later in the day. If you try and go at noon you will be in some crazy lines. We bought our tickets, saw the first 3D movie showing, and then ate at around 10:45. Then we got to enjoy the rest of the museum uninterrupted. The café was tasty by the way, lots of kid friendly items as well as fresh made pizzas and a nice salad bar.
Do you already have a membership to your local science museum? The Perot Museum reciprocates membership for ASTC Passport Program museums that are more than 90 miles away. We got in for free with our membership cards.
The designated parking lot is right across the street and costs $10. We didn't find anywhere cheaper than that to park. Every parking spot in Dallas costs money apparently.
We had a great experience overall and I hope you do too!
Originally published April 15, 2016