I was looking for a great day-trip for my family this summer that stayed inside our state of Oklahoma. I wanted my boys to experience more of our state, and realized there is so much I had not seen, either! When I found the Great Salt Plains, I knew it was the perfect spot.
Great Salt Plains

​
I grabbed a great park guide from our parks department, "Unearth the Unexpected: Oklahoma State Parks Outdoor Recreation Guide", and found the perfect spot – Great Salt Plains Wildlife Refuge of Jet, OK.
23280 S Spillway Dr. Jet, OK 73749 (8 mi. N of Jet on Hwy 38)
Just two hours from Oklahoma City, this spot is known for it's unique selenite crystals that you can excavate and take home (max of 10 pounds). The allowed digging areas are clearly marked for you to find.


Before we embarked on our journey, I had been given some tips from a friend (thanks Catherine!) on items to bring along to make it a smoother trip for all. I have tweaked it some, but wanted to share it with you too!
Great Salt Plains Packing List:
shovel –a "for real" shovel, no puny plastic anything & no garden trowels — that comes later
sunscreen galore!
sunglasses
hats w/ brim, or ball cap and bandanna for your neck (such a high sunburn risk there)
something to carry your gear to your dig site – i.e. collapsible wagon, laundry basket, etc.
plastic cups to sluice water in holes
bucket or large container to carry collected crystals
flip flops or sneakers/socks to change into
towels to sit on in car or change of clothing (I chose changes of clothes for all four of us. I knew my family would get down on the ground and quite dirty. I was right.)
plenty of water to drink — we took an Igloo 5 gallon water jug filled with up with water & lots of ice to last us the whole day, and refillable sports bottles
"washing" water – a separate container for tepid water for washing off all of the sand and salt when you are ready to leave. Even when you're blazing hot it's not really fun to wash hands in ice water!
food /snacks
beach umbrellas/large rain umbrella to stick in the sand while digging
first aid kit (you never know when you'll need one!)
trash bag for dirty clothes
egg cartons for storing special treasures to keep them from bumping up against each other, or small plastic reusable containers are good too.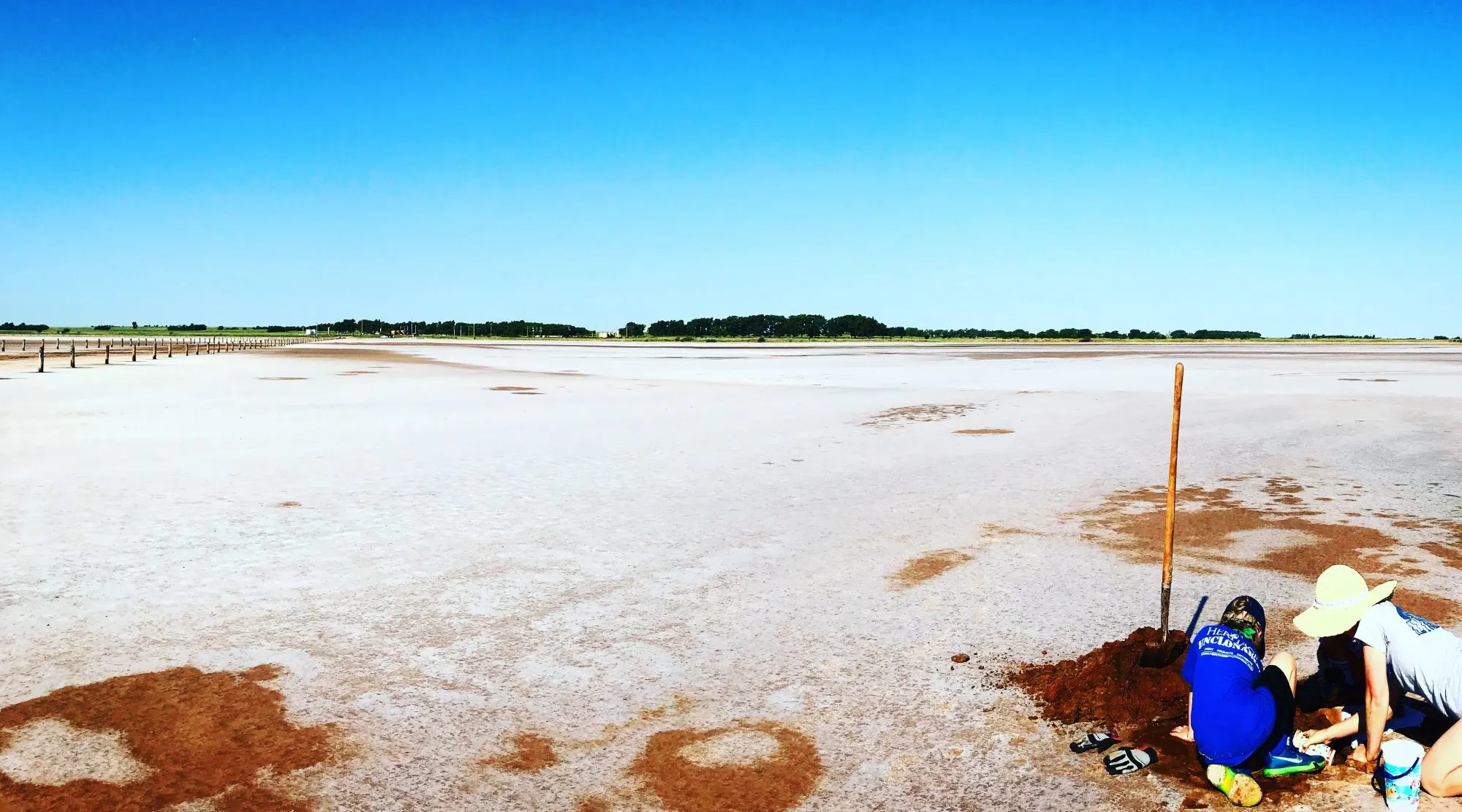 Digging methods & tips:
1. Drag your tools to your choice digging site withing the designated areas.
2. Using your shovel, dig a hole about 2 feet x 2 feet until you hit water.
3. Stop! On our second attempt we realized it was much easier to find crystals when we did not uncover as much water at the beginning of the dig. It allowed for easier excavation and the water rises naturally.
4. Begin sloshing the water on the inside walls of your hole with your cups, or hands.
5. Begin feeling around in the softened sides for pointed, sharp edges and uncover your crystals!
We stayed for over two hours, and left with more than we knew what to do with! My oldest would have stayed much longer, too!

Once we returned home we cleaned our crystals with water and toothbrushes to get as much of the sand off as possible. Our goal was to find at least one of the coveted 'hourglass' crystals. These are indigenous to the Oklahoma Salt Plains. We found several – score!

This was a perfect day-trip outing that we will definitely be doing again. A little explorer's paradise!
Looking for another Oklahoma day trip? How about The Gathering Place?
Originally published September 15, 2017