Looking for some exciting girls' night activities that won't break the bank? Check out these 20 fun and budget-friendly ideas, from DIY spa nights to stargazing adventures. Discover the perfect way to create unforgettable memories with your girl squad!
When's the last time you had a good ol' fashioned girls night? The type of quality time that's a great way to bond with best friends, new friends, or even people you'd like to get to know better. Let's get ready for a good time, no, a great time, with this list of fun ideas for your friend group to enjoy the next girls' night.
Whether you're planning a cozy night in or a wild adventure out, we've got you covered with these 20 fantastic girls' night activities that'll have you laughing, bonding, and maybe even shedding a tear or two (of joy, of course). Best part? We've thrown in some budget-friendly options, so you can have a blast without breaking the bank. Get ready for an epic girls' night in or out that you won't soon forget!
20 Girls Night Activities
1. DIY Spa Night
Transform your living room into a tranquil oasis with scented candles, soothing music, and homemade face masks using ingredients like honey, yogurt, or avocado. Try giving each other relaxing hand massages and finish off the evening with a refreshing cucumber-infused water or a delicious fruity mocktail.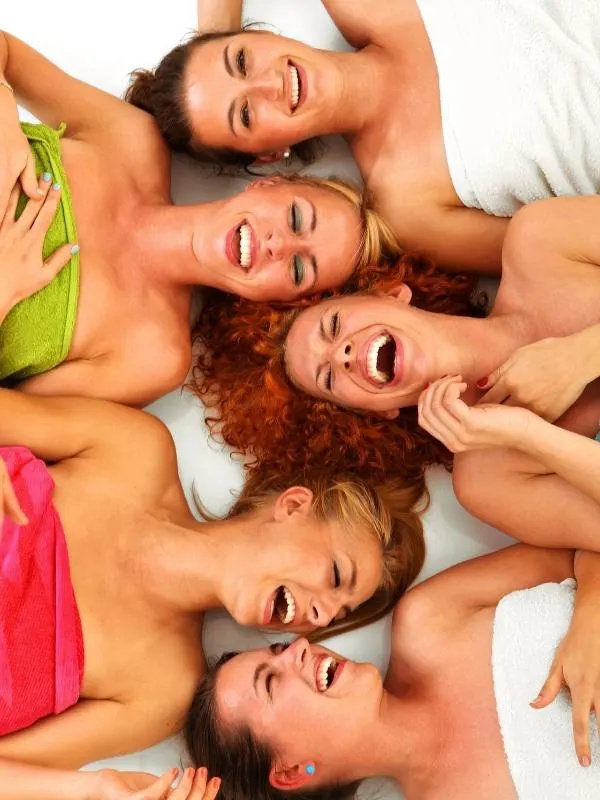 Don't want to mess with creating your own beauty concoctions? Hit up the beauty aisle at your favorite store and choose face masks, hand masks, foot masks, or whatever excites you! A great idea to get in some much-needed downtime while hanging with your best girlfriends.
2. Movie Marathon Madness
Create a cozy movie-watching setup with plenty of cushions and blankets. Choose a mix of classic rom-coms, feel-good "friend" films, and maybe even a sprinkle of horror films if you're feeling brave. Don't forget the popcorn, candy, and some themed snacks to keep the movie night excitement going strong.This is a fun way to spend time with friends whether you know them super well or not!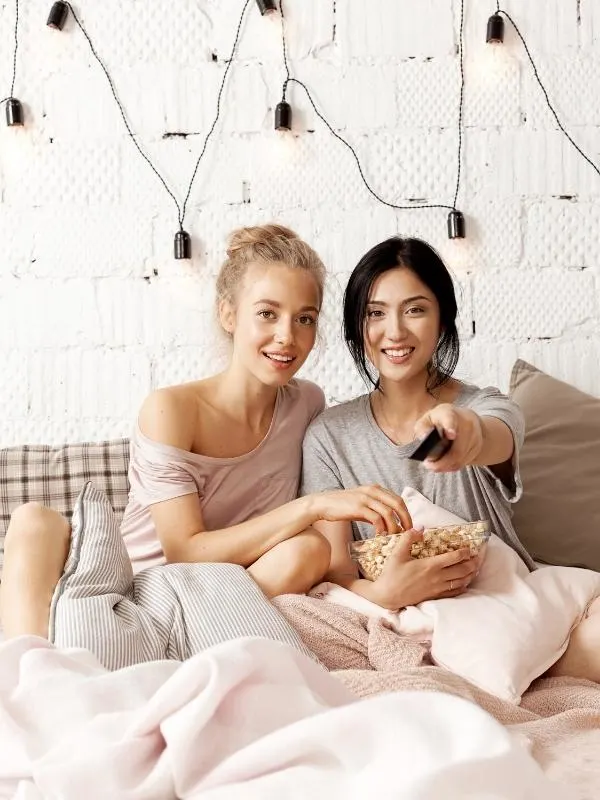 3. Potluck Dinner Party
Set a theme for the dinner party, whether it's Italian night, Mexican fiesta, or an international potluck. Coordinate dishes with your friends beforehand, ensuring a delightful array of appetizers, mains, sides, and desserts. Share the recipes and cooking tips while relishing the diverse flavors and culinary expertise of your friends.
4. Karaoke Night
Pick a wide selection of songs ranging from classic ballads to current chart-toppers. Encourage everyone to step out of their comfort zone and showcase their vocal talents. Use props like feather boas, microphones, and funky sunglasses to enhance the karaoke experience and create a lively, entertaining atmosphere.
You could absolutely go out to a karaoke bar or you can practice belting your favorite love songs from the comfort and privacy of home! (Maybe a better way to ease into it if people are nervous!) If you've got a karaoke machine, great, if not, there are plenty of apps and ways to take on this unique girls night idea.
5. Nature Walk and Picnic
Explore a nearby nature reserve or park, taking in the fresh air and scenic views. Pack a variety of easy-to-eat snacks such as finger sandwiches, refreshing salads, and an assortment of fruits.
Don't forget to bring a cozy blanket, portable speakers for some light music, and a Frisbee or football for a fun-filled picnic afternoon. Look for the ice cream truck or pack some yummy sweet treats to snack on while you chat.
6. Arts and Crafts Extravaganza
Set up a crafting station with various art supplies like canvases, paints, markers, and glitter. Choose a DIY project everyone can enjoy, such as creating personalized mugs, painting inspirational quotes on canvases, or designing custom jewelry. Take the opportunity to share tips and tricks while unleashing your inner creativity at this craft night.
7. Board Game Bonanza
Are your gal pals a little on the competitive side? Have a collection of board games ranging from classics like Monopoly and Scrabble to newer favorites like Codenames and Ticket to Ride. Divide into teams or play individually, ensuring everyone gets a chance to showcase their competitive spirit and strategic skills while enjoying plenty of laughter and friendly banter. A little competition (notice I said little) makes for some good laughs and playfulness with friends.
8. Themed Costume Party
Plan a themed party with costumes that allow everyone to embrace their alter ego for the night. Provide a playlist that matches the theme, and decorate the space accordingly. Encourage guests to get creative with their costumes and prepare for an evening of dancing, laughter, and endless photo opportunities. How much fun would you have dressing up in your favorite 90s throwback clothes (dig back in your closets for that one), or a Barbie themed night. Now, who's going as Midge?
9. Volunteer Together
Reach out to local charities or community centers to find volunteer opportunities that align with your interests and values. Whether it's serving at a soup kitchen, helping at an animal shelter, or organizing a neighborhood clean-up, working together for a good cause can strengthen the bond between friends while making a positive impact in your community.
10. Stargazing and S'mores
Choose a secluded spot away from city lights, ideally on a clear night. Lay out cozy blankets or bring portable camping chairs for comfort. Bring along ingredients for s'mores, including graham crackers, chocolate bars, and marshmallows. Encourage everyone to share stories, stargaze, and marvel at the beauty of the night sky while enjoying the simple pleasure of a delicious fireside treat. Can anyone play the guitar? Seems like a fun night for a little live music around the campfire too!
11. Dance Party at Home
Clear out some space in your living room, create a lively playlist of your favorite tunes, and get ready to dance the night away. Experiment with different dance styles, create group choreographies, or just let loose and have fun with some spontaneous moves. It's sure to be a fun night with lots of laughs.
12. Paint Night
Unleash your inner artists while sipping on your favorite drink. Attend a local paint and sip class or set up your own at home with canvases, paints, and brushes. Follow step-by-step tutorials or create your own masterpieces, (or try a paint-by-number!) all while enjoying each other's company and good food. This night calls for a charcuterie board for sure!
13. Outdoor Adventure
Plan a day trip to a nearby hiking trail, a beach, or a scenic spot for a day of outdoor adventure. Enjoy activities like hiking, swimming, or even kayaking, depending on the location. Pack a picnic and plenty of water, and be prepared for a day filled with laughter, exploration, and breathtaking views.Not feeling quite so adventurous? An amusement park might be fun too!
14. Cooking Class at Home
Pick a cuisine you've always wanted to explore and organize cooking classes at home with a small group of friends. Assign different tasks to each friend, from chopping vegetables to seasoning dishes. Learn new recipes, exchange cooking tips, and enjoy the delicious results together as a reward for your hard work.
15. Game Night with a Twist
Spice up a typical game night by adding a twist, such as incorporating truth or dare into the games, creating personalized scavenger hunts, or even playing escape room board games. Get creative with the rules and challenges to ensure an evening filled with excitement and friendly competition.
16. Outdoor Movie Night
Set up a backyard or rooftop movie screening with a projector, a white sheet, and plenty of cushions and blankets. Choose a classic or recent favorite movie, prepare some tasty snacks, and enjoy an evening under the stars while indulging in the magic of cinema. A cozy night of friendship, a good laugh or two, and making memories!
17. Baking Extravaganza
Channel your inner pastry chef by organizing a baking extravaganza. Choose a variety of recipes for cookies, cakes, or pastries, and work together to create delicious treats. Experiment with different flavors, decorations, and icing techniques, and savor the sweet results of your baking efforts
18. Yoga or Meditation Session
Create a calming and peaceful atmosphere at home with scented candles, soothing music, and yoga mats. Follow along with a guided yoga or meditation session, focusing on relaxation and mindfulness. Encourage each other to find inner peace and tranquility, leaving you feeling refreshed and rejuvenated.
19. Book Club Meeting
Select a book that interests everyone, and schedule regular meetups to discuss chapters, themes, and characters. Host the book club at a different friend's house each time, and provide snacks and drinks that align with the book's theme or setting. This idea might be perfect for a fun girls' night where you're trying to get to know people better.
20. Favorite Things Party
This would be perfect for a holiday gathering, but could be fun any time you pick! Each attendee brings an item that fits the criteria (budget, theme, etc.) and each guest gets to go home with something fun! People could even bring several items if that's more fun too. Make it a yearly tradition and see who brings the best new things!
No matter your budget or mood, these girls' night ideas are bound to create lasting memories and strengthen the bonds of friendship. Fun and affordable ideas to celebrate a birthday party, wedding party, get-know-you event, or just an any-time girl's night.
Whether you're cracking jokes, sharing secrets, or simply enjoying each other's company, it's the moments you spend together that make life a little brighter. So go ahead, pick your favorite activity, gather your closest friends, and get ready for a night filled with endless laughter and unforgettable moments!
These activities are all about creating memorable experiences and building deeper connections with your friends, so don't forget to capture these special moments through photos or videos to cherish for years to come!