Cool outdoor toys are a must in the summertime. If you have kids that itch to get outside whenever possible, these toys will keep them smiling all summer long!
From the moment they wake up my kids are ready to play outside. (Regardless of the temperature!) I too, enjoy being outside, but I also don't want to have to engage in multiple games of tag when it's hot outside. Or, even when it's not. :)
This is where having some tried and true fun toys outside really helps. Yes, they can be entertained without them (case in point, we have a huge laundry basket currently filled with water that's been a big hit) but sometimes you need to mix things up a bit. Our yard may look like a playground but we're making memories, right?
In order to save you time and money on finding things your kids will like, let me share with you the top cool outdoor toys that my kids actually play with.
This post contains affiliate links meaning purchases made through included links may result in Splendry a commission at no cost to you.
8 Cool Outdoor Toys Kids Will Love
1. Water balloons
My children live and breathe for water balloons. As someone who does not enjoy wearing wet clothing, I don't get it, but to each their own. I've written about the appeal of the quick-fill water balloons before but if you haven't seen them or tried them, it's a must!
You can find the original brand at most stores but I've found the much cheaper dupes on Amazon to be great too.
A new addition to our water balloon game this summer are these reusable water balloons.
Easy to fill and self-sealing, these are a great alternative to the traditional water balloon. My kids can even fill them by themselves which means I can steer clear of the water balloon madness!
2. Steer & Stroll Ride on Trike
Such a great purchase! When my oldest was at the age for a tricycle I knew there had to be an option that allowed him to pedal but had a feature where we could push too.
We bought this and have gotten our money's worth and then some.
Now my five year old is on a bigger trike and the two year old has taken command of it. The fact that I don't have to bend down to push him or try to steer his handlebars? Priceless. (But it helps that the price of this is under $100 too!)
3. Roller Coaster
We are the typical "overrun with toys" household so we requested fewer toy gifts for the kids at Christmas this year. If people really wanted to get something we suggested something to be used outside.
A family member gave the boys this ride-on roller coaster and it's been a big hit! This is probably a better gift for tinier kids, but my five year old has fun on it too, though the two year rarely lets him have a turn!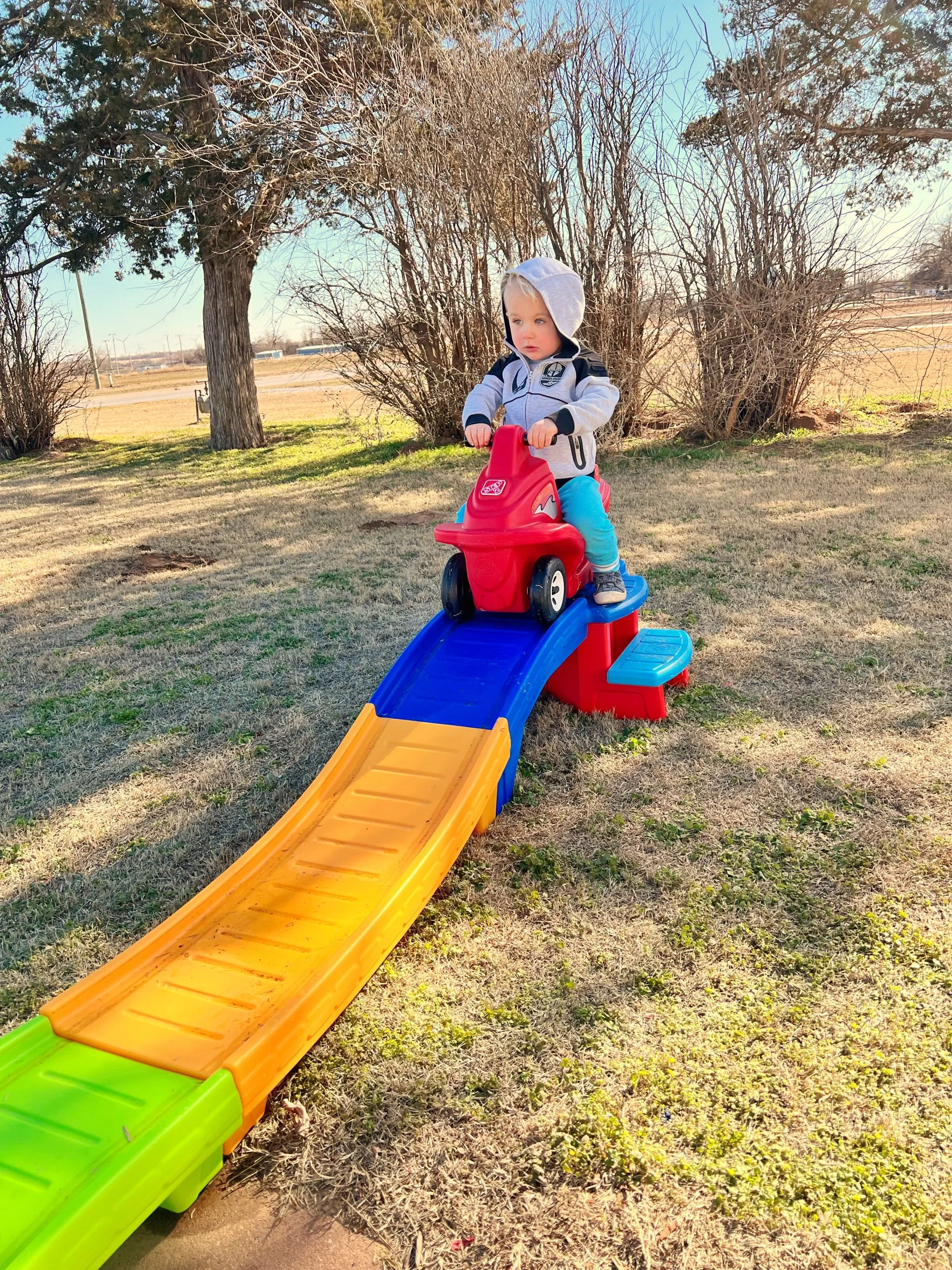 4. Airplane Launcher
Another fun gift and one that the kids have recently been re-discovering are the airplane launchers. They're still a little tough for my youngest to use completely on his own but he has a lot of fun with them.
5. Splash Pad
This was one of those Costco impulse buys that paid off. So simple and yet, so fun. We just used this splash pad the other day and I was even tempted to splash around a bit!
6. Water tubes
$1 at Dollar Tree and great for big and little kids. My children sometimes use theirs to wash my car, but most often they use them on each other!
7. Water table
My parents have a water table at their house and my youngest loves it. Simple to set up and provides lots of fun.
8. Ride-on truck
Yes, you know ride-on vehicles exist, but if you're still wondering if your kids would use it, mine definitely do.
My parents had a ride-on vehicle for my nephews but it finally gave out after about a decade of use. I grabbed a new one back when Target had one of their 20% off coupons around Christmas so I got a great deal on it.
There are fewer things more precious in life than seeing my boys riding together, with my oldest at the wheel. Once he finally outgrows it (which I don't think will happen anytime soon) my youngest will get to move to the driver's seat for some solo excursions. A great purchase indeed.
Those are the eight toys most heavily in rotation in our yards, how about you? What cool outdoor toys are your kids loving?