You know how you get that one annoying children's music song stuck in your head for what feels like days? (And sometimes is actually days.) That's a pretty good test to see if you can handle being a parent. Can you listen to one annoying song repeating over and over and over and…
Between the nursery rhymes and stories you re-read again and again, it can make you a little nuts. But, there are a few good books and good songs and albums you can handle a little longer than the others! I polled my friends to ask them for the best "non-traditional" kid's albums that don't get on their last nerve. Here's what I found:
(Make sure you check out the giveaway below! You could win one of these awesome albums!)
10 Children's Music Albums to Try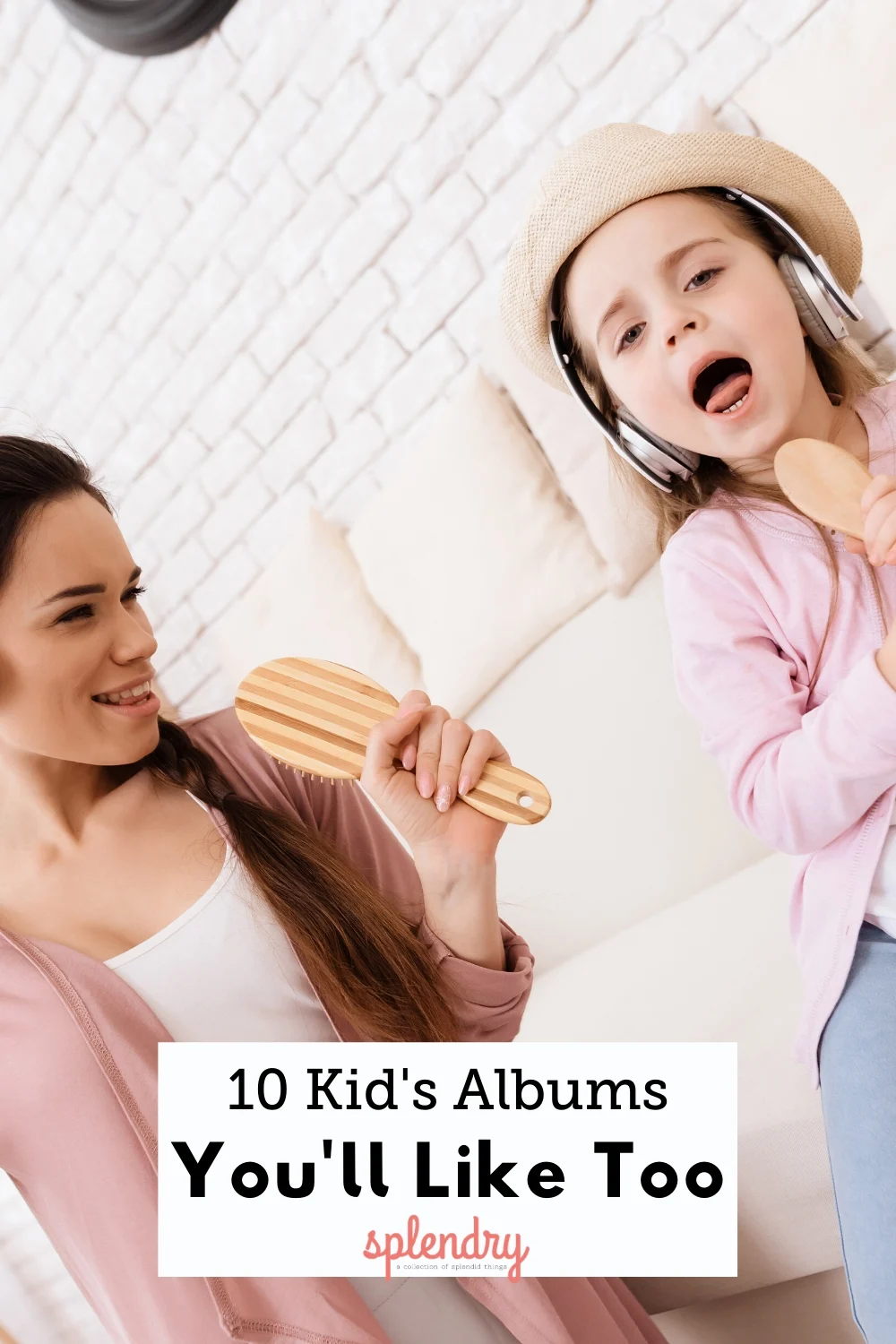 This post contains affiliate links meaning purchases made through included links may result in Splendry earning a small commission at no cost to you.
I first heard Basho and Friends on some toddler Pandora stations and another friend said anytime B&F songs come on, the whole family sings along. There are lots of original songs, but also some cool, funky twists on classics. Definitely the best version of The Itsy Bitsy Spider I've ever heard. And let's just say that at this point, I've heard a lot.

Definitely not the classic children's song you remember. These albums are meant to expose your ears (and baby's) to the bands and songs you love! Think a mixture of sweet lullabies set to your favorite songs. From Queen to The Beatles, Justin Timberlake, Journey, and more. If you love the band, chances are there's a Rockabay Baby! album for you.
Some of these are also just kind of hilarious to think about as you listen. Who would think Kanye's Gold Digger would make a sweet bedtime song?
80s and 90s kids (now having their own kids) will remember They Might be Giants for their fun, quirky songs and it turns out they've got some children's music too. Here Comes the ABCs is educational and has catchy words and hooks and you won't mind hitting repeat on.
Full disclosure, this album comes to you from my brother, Lucas. BUT, in true sister form, I wouldn't add it to the list if it didn't deserve a spot (I've been his toughest critic for the past 30-something years, you know.). Actually, my toddler gives the real endorsement here. Each morning he wakes up and strums his shirt (like he's playing a banjo) to let me know he wants to hear this album. It's a comedy/banjo album meets Star Wars, local television and evil monkeys. So, yeah, kids will love it.
A Favorite: Even if my kid isn't with me, I've been known to play "I Don't Want to Live on the Moon", which you might remember from Sesame Street. This version is so, so sweet. Good job, bro.
When a friend recommended this album, I thought they were kidding at first. (That name didn't sound super kid-friendly, ha!) No joke, that's the name! Their kid-specific album is actually by The Raging Kidiots, so there's that. There are twelve catchy tunes on this one, aimed probably more at an older kid range, though my kid will dance to anything with a good beat, so don't exclude it for toddlers too!

You've seen their commercials forever, and now that you're in the parent club, the songs aren't half-bad! Kid's Bop is basically your top 40, trending "adult" music, sung by kids. Obviously there are some lyric changes here and there, but overall the songs are good and you'll love singing along in the car without having to worry about changing the channel quickly when those questionable lyrics come up.
Definitely the classic kid's band you've heard about for years, even if you didn't have kids. Sugar Free All Stars has many albums to pick from, with songs all geared towards kid's liking. ("Monster Truck", "My Dog Pete" "Petting Zoo", etc.) Chances are, your kids (and you) will approve.
Guthrie's songs are fun and quirky and Elizabeth Mitchell's voice is gorgeous and calming. A perfect combination when you've got an album on repeat non-stop!
While Rockabye Baby! might be more "pop" geared, these children's music albums hit you in all the rock feels. Want your kids to appreciate Metallica and Sublime? Grab some of these to introduce them. They do have some pop-ier albums too (like Adele and Mumford & Sons), but if rock is your genre of choice, these albums are for you. I mean, your kids. :)

A cool introduction to some notable people in history. From Georgia O'Keefe to Rachel Carson, Rosa Parks, Thomas Edison and more, kids (and you!) will be introduced to some some real-life American heroes. Bonus, there's a book that goes along with it!