Probably one of the easier DIYs I've attempted, figuring out how to recover a storage ottoman was a fast project and pretty cheap! Plus, I love the finished product!
I had been on the lookout for a storage cube on the clearance aisles of Target for quite a while. I finally happened upon one one day for about $13! It was a pretty turquoise shade, but I was really wanting to recover it with something more neutral but that had a fun pattern.
I grabbed some printed cotton from my fabric stash and was good to go!
I loved this geometric print and thought it was be a nice contrasting print in my living room.
Supplies:
Storage ottoman/cube
1 Yard of Fabric
Staple Gun (with staples!)
1. Measure around the four sides of your cube to see how much fabric you need for the sides. Add about 3 inches of width to cover some on the top and bottom. Cut off the excess (you'll use this to cover the lid).
2. Fold under the edges and iron.
3. Next, remove the plastic coasters from the bottom of your cube if it has them.
4. Line up the fabric and pull tightly. Staple on. (Seriously, it's that easy.) Replace the plastic coasters to the bottom of the cube (I used a hammer).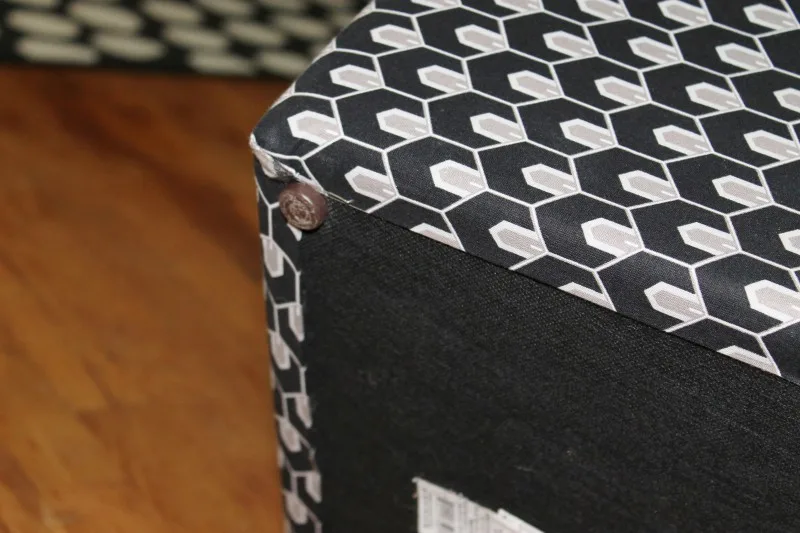 5. Do the same with your lid. Next, align your fabric correctly and fold the fabric under on the corners. Staple to secure! It's certainly not perfect, but hey, I'm not selling it! Plus, all the staples are hidden on the inside or bottom of the ottoman.
I would highly recommend this DIY to anyone (if you can use a staple gun, you can figure it out!).
Make sure the fabric is secured with staples on the inside and bottoms of the cube. You should be set! It was so much easier than I expected to recover a storage ottoman, I'd definitely do it again!
*4/29/2020 update: This ottoman still looks as good as new, even five years later!
Originally published April 13, 2015