I have a nephew who loves puppies. LOVES puppies. And with his 4th birthday coming up I decided to attempt a puppy pillow! I couldn't find any patterns or tutorials online that were similar to what I wanted so I just made my own! (And, of course, documented the process just in case anyone else wants to give it a try!) I did get my ear pattern from another tutorial, though you could easily freehand it!
I based my puppy's face off of my nephew's favorite stuffed puppy toy and his real-life puppy so I chose a couple of shades of brown and white to work with. (But feel free to get creative with your colors/patterns!)
Supplies Used:
1- 14 x 14″ pillow
1/2 yard of White Felt
1/4 yard of dark brown felt
1/4 yard of light brown felt
(I could have definitely gotten by on scrap fabric but I wasn't sure when I purchased it what I was going to do with it!)
I also wanted to make my pillow case removable for washing so I added an invisible zipper at the bottom. You could certainly save yourself some time and effort by just stitching up the bottom once you're done.
Invisible marker/disappearing ink pen for mouth
* Make sure you wash and dry your fabric before you get started!
1. Cut your fabric pieces as follows:
Face (white felt): 16 x 16″ (cut 2)
Upper eye (light brown felt): 4 x 7″ (cut 2)
Lower eye (dark brown felt): 4 x 7″ (cut 2)
Ears (dark brown felt): I used a free download from this pattern (cut 4)
2. Sew your eye pieces together along a long edge using a 1/4″ seam. Repeat for other set.
3. Place your newly attached eye piece on your large piece of fabric on one of the top corners. Cut around it.
4. Take your eye piece and sew down the vertical line, stopping right at the corner. I used an 1/8″ seam.
5. Sew down the other seam and repeat with the other eye piece.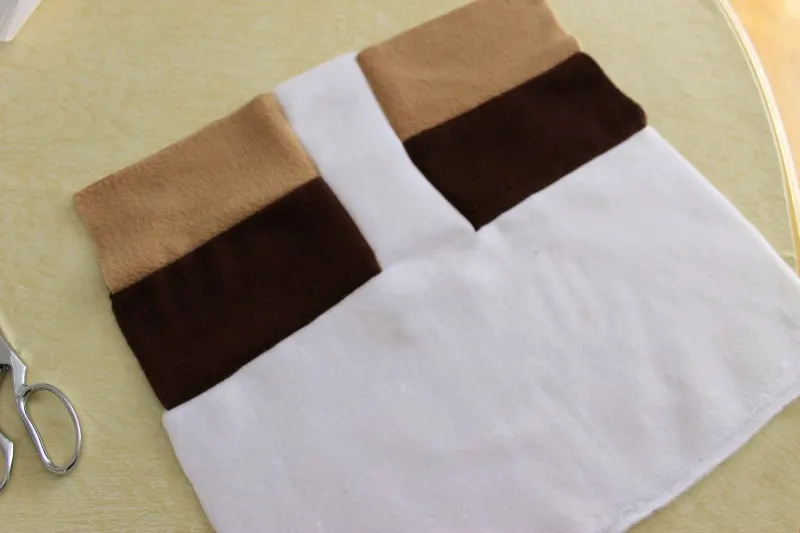 6. If you've got the ability to embroider you can certainly make your eyes and nose that way. I don't so I used buttons instead. Find your placement and attach.
7. Again, an embroidery machine would have been easier to do here, but I used a disappearing ink pen for fabric to draw my mouth shape under the nose.
**Make sure you test your marker on your fabric before using. I will say that although this ink did disappear when I added water, it kept reappearing in places for the next day! I think the felt must have kept transferring it around. Anyway, it really does disappear, it just took a little effort to keep rinsing it off in places!**
8. Using a zigzag stitch that I shortened in length, I followed the lines I drew. (The seam ripper did come out quite a bit during this process as my thread kept balling up a bit at times!) Just keep going over your lines until you get the thickness you want. I went over 2-3 times. I also had to remove my nose button and reattach after I stitched.
9. I didn't get a photo of the ear pieces being attached, but it's pretty simple: with right sides together, place two ear pieces together and stitch around the sides and bottom with a 1/2″ stitch. Leave the top open for turning inside out. Repeat with the other two ear pieces.
10. Place one ear piece with the large part of the ear to the inside and with the ear opening along the edge of the eye pieces. Place about 1 to 1 1/2″ from the top edge. Baste and repeat with the other ear piece.
11. Take your unused large piece and place on top of your face piece (right sides together). Pin around leaving a large opening at the bottom for turning.
12. Stitch using 1/2″ seam. Trim and turn the fabric right side out. Insert your pillow.
** I bought a cheap pillow insert so my shape wasn't exact. I would insert the pillow, take out and take in my seams on the top or bottom as needed until my fit was better.**
13. Close up your hole either by hand stitching the opening shut or by inserting a zipper.
14. Done!
Originally published April 8, 2015