Life is full of ups and downs, of highs and lows and of milestones and accomplishments. While big life events can bring about change, extra financial costs and uncertainty, they are also the first steps towards something new and exciting!
Here are five big moments that people may come to in life and how to make them great.
Tips for Making Big Life Events Less Stressful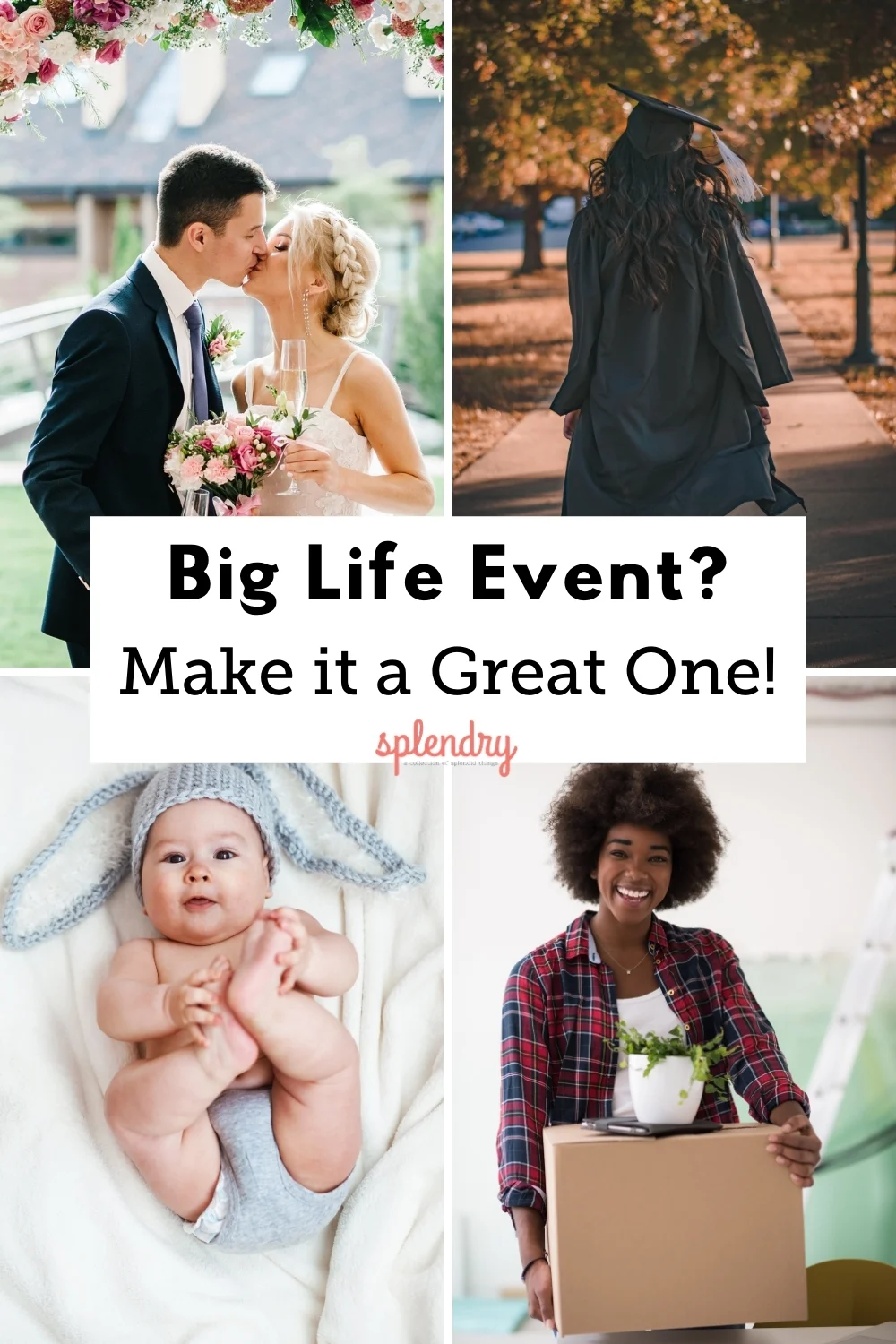 1. GRADUATION
Whether someone is graduating high school or college, they are closing a chapter and entering into a whole new world. At 18, it can feel liberating to get to finally fly the coop… but it is also a huge change: a new location, all new peers, no Mom and Dad around to do laundry or cook for us. And while a college graduation is a little different, it still involves leaving this cocoon that has become home and having to go out, put that education to use and find a job.
To make graduating an even better experience…
Try not to stress – Everything will work out as it is supposed to, so embrace the adventure.
Make connections – Keep in touch with teachers, professors and employers along the way; you never know who could be used as a reference or who could turn into a life-long mentor.
Savor the moment – Graduating can be quite scary, but soak up high school, enjoy college, and prepare to shine, wherever you may go next!
2. WEDDING
A wedding is rated as one of the most stressful things a person can experience… but it is also usually considered the happiest day of a couple's life!
To make a wedding day even bigger and brighter…
Really look at your budget– You want your big day to be perfect, but you don't want to break the bank either. Consider DIY projects. Ask around for serving ware and decor that you can borrow. Think about renting wardrobes. Cash in some favors with loved ones, when it comes to a DJ, a photographer and even an officiant.
Stand your ground – While there may be some areas where money can be saved, there will be others where you need to stand your ground. It can be hard to make everyone happy in these two families that are becoming one, and you want guests to enjoy themselves. However, this is about the bride and groom, so don't feel pressured; make the day how you two want it to be!
Take a moment alone – Furthermore, make sure you two lovebirds find a moment to sneak away, to let everything sink in and to really admire what is happening, since it will fly by.
3. MOVE
Another common life moment that can also be full of tension is a move. Some people hop around from apartment to apartment, while others save up for a dream home. Some people relocate to a new state, while others end up in a whole new country!
To make moving day a bit less stressful…
Make sure boxes are labeled – This may sound basic, but things can get crazy during a move. Everyone who is helping out should know which boxes go where – and which ones are full of breakables.
Have a go bag – Think about items you will need – like a change of clothes, phone charger, cleaning supplies, etc. – and keep these in an easy-to-access spot.
Order pizza – Whether it is pizza or not, everyone involved in this workout will appreciate being rewarded with some grub.
4. NEW JOB
From first jobs that involve part-time work to major career changes later in life, a new job requires a lot of work… really. Most people have to learn all these new standards, expectations, tasks and names, all in order to bring home a paycheck, use degrees and live out passions.
When it comes to a new job, make the time an even greater one by…
Staying calm – It is sort of a fake it 'til you make it thing, but you got the job for a reason. Believe in yourself, take a deep breath, and knock their socks off.
Being organized – Even the smartest and most talented person out there can run into disasters if he/she is disorganized. Use a planner. Take notes. Keep your desk tidy. Be punctual. These things will be noticed and beneficial!
Finding a friend – Hopefully, we all have at least one great work friend. If not, we all need at least that go-to person who can help us out when we are in a jam, remind us about what time a meeting starts and eat with us on lunch break.
5. BECOMING A PARENT
And, of course, welcoming a child into the family is yet another of the big life events – a stressful, tiring, crazy, beautiful, joyous one!
To make parenthood even more amazing…
Enlist help – We all want to be a super parent, but we do need help. Take advantage of everyone around who is offering up gifts, food, babysitting, advice and a hug!
Take lots of photos/videos – Life really does go by so quickly, so help remember these special moments by taking lots of pictures and recording the kiddos regularly.
Say those three little words – Having someone to go through these life moments with can be extra helpful. So while big life events are happening, moves are occurring, new jobs are popping up and the next generation is getting ready to graduate, remember to remind those around you – especially your children! – how much you love them.