Dollar Tree is by far my favorite of all the discount stores; mainly because unlike Family Dollar, etc., everything REALLY is a dollar or less. Maybe you've avoided going in because you think there can't possibly be anything good there. While I certainly wouldn't buy everything at Dollar Tree there are lots of good items that really are a great deal. Here are a few of my favorite tried and true bargains.
1. Gift Bags/Wrapping Supplies and Greeting Cards
This is such a money saver. All of this stuff ends up in the trash at the end of the party whether you spent $6 on a card that plays the Macarena or not so why not save the cash? I always reuse my gift bags so then you get even more of a deal.
2. Art Supplies for Kids (and grown-ups)
My kids go through approximately 5 million sheets of paper a day. They are constantly coloring, painting, etc. Sometimes it's a better deal to buy a cheap pack of printer paper from an office supplies store but it's really nice to be able to grab a $1 drawing pad. When my kids were younger we always got our coloring books here.
Teachers know all about stretching their budget at Dollar Tree and many of these items are great for home or Sunday school as well.
3. Seasonal Fun and Party Decor
The best stuff at Dollar Tree will usually coincide with the current holiday or season. Right now they have tons of cute stuff for a Luau party or summer vacation fun.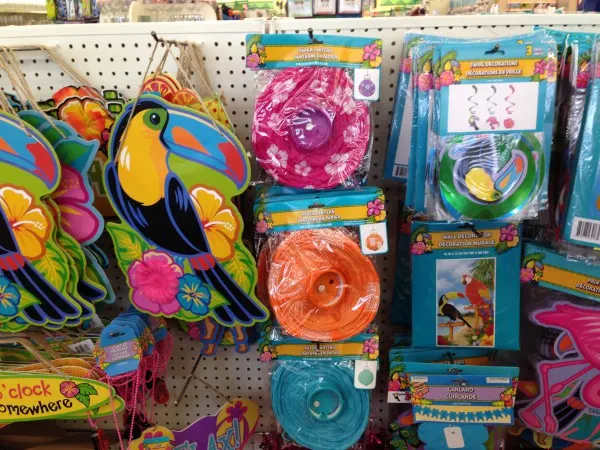 My daughters have been obsessed with Hawaii since they saw the Lava short before Inside Out so they picked up some adorable hula skirts. At Christmas I can find tons of stuff for stockings or decorating packages. I found adorable tiny pine trees a few years ago that I used to make snow globes.
4. Organization
I have used cookie sheets from Dollar Tree for all kinds of things (but not for actually baking cookies); my current favorite use is to keep my kids Play-Doh off the table. They are also great for magnet play or keeping crafts from getting out of control.
I use these adorable brightly colored bins for storage in my pantry and to organize toys and art supplies. I think they'd be perfect for classroom use too.
5. Party Favors
Depending on your party theme you can find tons of good stuff for favors. I really like the character themed mini-puzzles.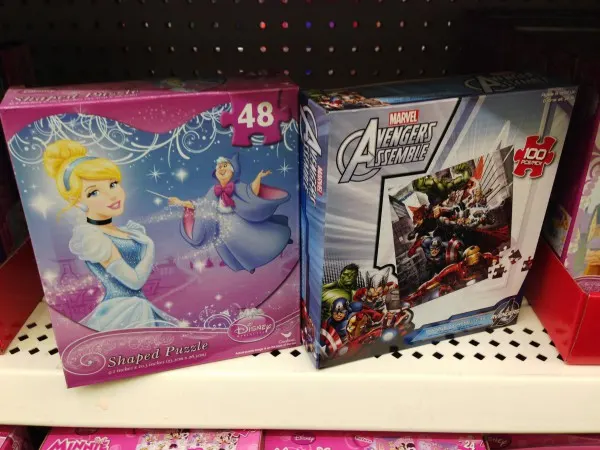 Other Dollar Tree Favorites
Foam craft kits, my kids love those
Spices, I know some will insist that you can tell a difference between their $20 jar of Mexican cinnamon and my huge jar I got for $1 but I sure can't.
Dress up items, for everything from Halloween to school dress up days you can easily find accessories to fill out your costume
Disposable metal pans for parties or taking food to others
What are some of your favorite Dollar Tree finds?
Originally posted 7/20/2015