Thank you to RYOBI Tools for sending a scroll saw for Amanda to use. All opinions are her own.
For any DIY-lovers and crafters out there, there is a tool that you need to have on hand for a variety of fun projects. It's a RYOBI Scroll Saw! In case aren't familiar with it, a scroll saw allows you to cut complex shapes and designs that other saws wouldn't allow you to do. Want a custom cut word or saying? A scroll saw is what you need. From intricate wood art designs to easily cutting circles a scroll saw can be incredible helpful.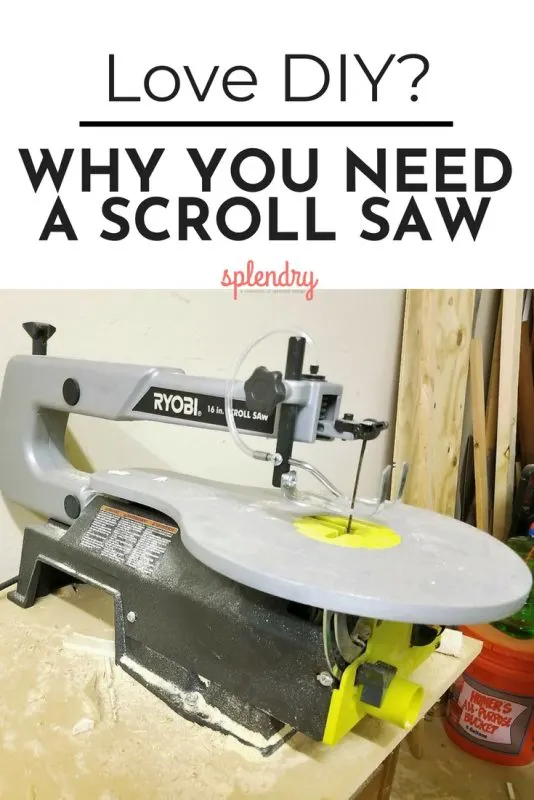 I was lucky enough that Ryobi Tools sent me one to try out! It was incredible easy to set up. I highly recommend that you read the instruction manual before you get started. Unlike other saws, a scroll saw has a learning curve. You will need to learn how to set the tension (to make sure you don't constantly break your blades), which blades to use for what thickness of woods, and how to adjust the speed for the most accurate cuts.
For me, the most helpful thing was watching some video tutorials. My favorite one was from Scroll Saw Paradise. He has multiple in-depth tutorials for beginners. It was great to go over curves, corners, and how to turn. I found that it gave me a great base to start with.
After that the scroll takes some practice! The more you use the scroll saw and practice making complex shapes and words the better you get. I also found that a scroll saw is much easier to control then a jig saw to make cuts. With the jig saw you have to really push to get it the through wood and hold the wood steady. Not so with the scroll saw. The saw is stationary so you just need to push the wood through slowly to make cuts.
A project I made using my RYOBI scroll saw, you can see the full tutorial here.
Overall I am incredible pleased with my scroll saw and have a variety of projects I can't wait to use it on! Do you have any questions about a scroll saw or have been thinking of getting one? Let me know!