This is a pretty simple necklace holder that cost only $9 and an hour to make. My sister wanted a way to display her necklaces in her room so I came up with this idea!
Items Needed:
Picture frame (I got mine at a garage sale for 25 cents!)
Foam board
Fabric
Large Push pins
Instructions
These holders can be made any size just depending on how large the frame is. I had some left over white paint so I used that to paint the frame. Then I cut the foam board down to fit inside the frame and cut the fabric to be able to wrap around the foam board. The size of your foam board and fabric cut is determined by the size of your frame.
I hot glue the fabric to the back of the foam board.
The fabric all glued on
I attached some picture hangers with a wire in between to the back of the frame. This requires drilling two holes and you can get the pieces to do this at any hardware store.
I bought some large push pins to hold the necklaces.
I placed five push pans symmetrically on the board, three on top and two on the bottom. You can use as many or as few pins as you would like! It's really up to you!
Now I was ready to attach the board to the frame. Again, I just hot glued the edges of the board to the frame. I used lots of glue to make sure it seeped into the edges.
I even place a tiny bit of glue on the back of the pins to keep them from scratching the wall and to make sure they stay in place.
That's pretty much it! It's a very easy project and my sister was thrilled with how it turned out!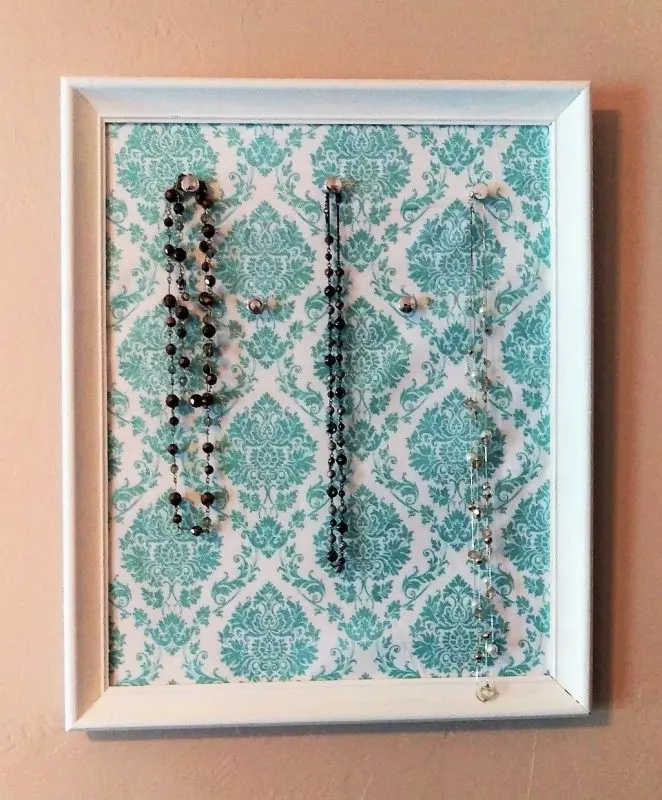 Originally published December 19, 2016