This lightweight DIY toy box is a great storage fix, and if you're in the mood for a good project, give it a try! If you've got kids a toy storage solution is always needed!
I have been looking for a toy/storage box for a while now for my daughter. She has gotten a lot of dress up clothes from her cousins and while she loves the dress up clothes, they are all over her floor. In an effort to keep her room slightly neater a toy box was definitely needed.
I never could find a toy box I really liked. I even started looking into different designs to build one myself. A lot of the designs used 2 x 4s. While those toy boxes looked great, they would be really heavy.
I eventually came up with my own design for a lightweight DIY toy box. One of the reason I liked my toy box was that I used 0.25 inch sanded plywood. This would make the toy box a lot lighter so I am not as worried about any little fingers getting smashed in heavy wood!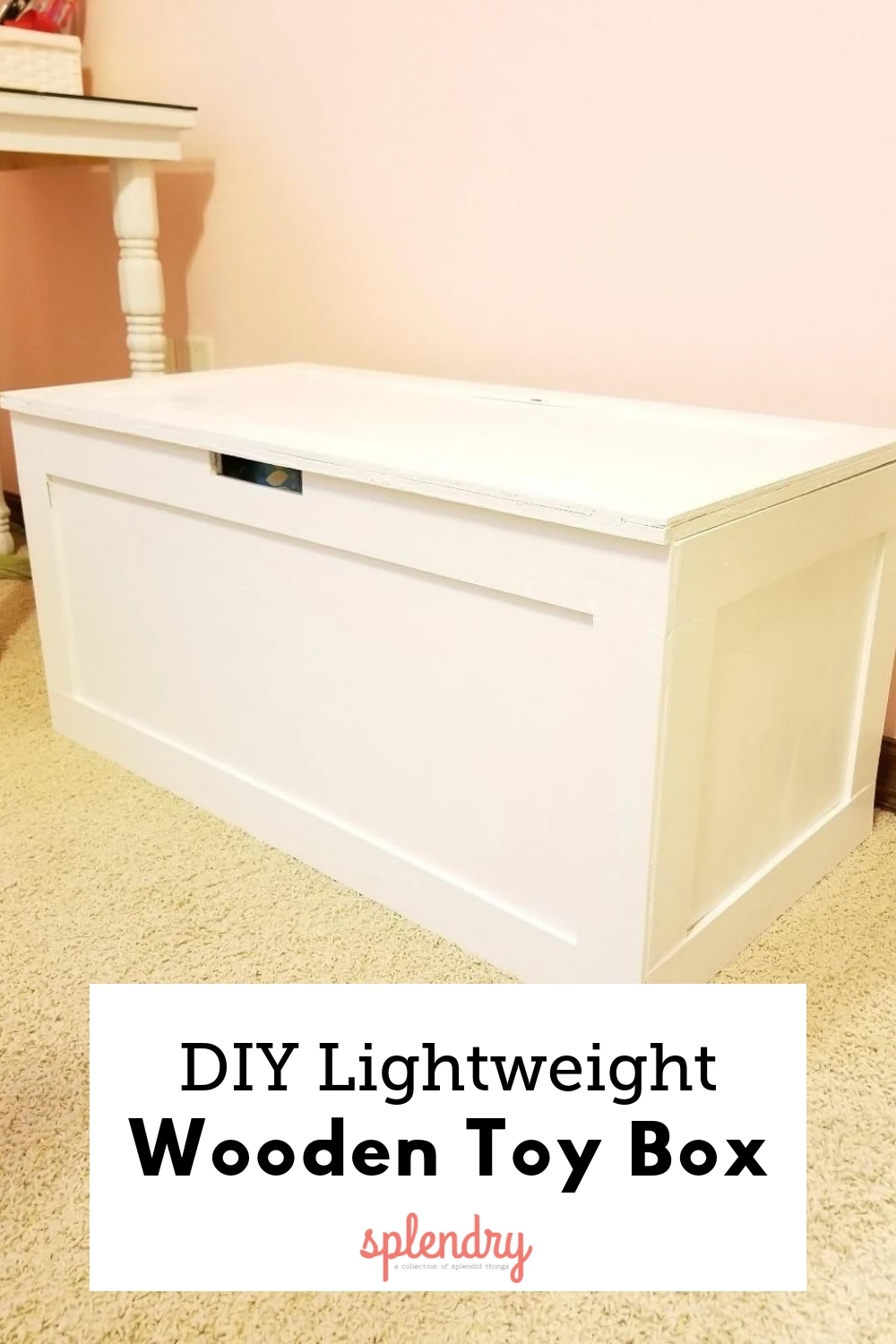 This post contains affiliate links meaning purchases made through included links may result in Splendry earning a commission at no cost to you.
Lightweight DIY Toy Box
Here is what you need for this toy box:
1 – 4 x 8 ft 0.25 inch sanded plywood

1 – 4 x 4 ft 0.50 inch sanded plywood

4- 1 inch brackets

2- 1 x 1 inch 8ft boards

1 inch brad nails and brad nail gun
To start I cut out the sides, bottom and top of the box.
Here are the cuts you will need to make using the 0.25 sanded plywood:
2 – 15 x 16 inch sides

2 – 15 x 33 inch sides

1 – 33 x 16 inch for the bottom
Then I used the 0.5 sanded plywood and made one cut that was 33.5 x 17 inches.
Finally, I used the 1 x 1 boards I cut 10, 15 inch long pieces. These are the structural supports for inside the toy box. Don't get rid of the rest of the 0.25 sanded plywood. We will be using it to make the decorative edging.
1. I started by attaching my 1 x 1 inch boards to the 15 x 33 inch board. There will be a 1 x 1 on either end and 2 1 x 1 in the middle.
2. Once the boards where in place I flipped them over so I can nail them with my brad nail gun. On either end I made sure to leave enough room for the small ends of the toy box to fit.
3. Then I attached one 1 x1 in the middle of the 15 x 16 inch board.
4. Using a jig saw on one of the large sides we cut out a small area at the top to allow you to lift the lid easily.
5. Next I attached the sides together. To do this I used some large clamps to hold all the sides in place. Once the four sides are squared I nailed the short ends to the long end on the 1 x 1 inch end boards.
6. Then I flipped over the box and attached the bottom. We nailed the bottom into the 1 x 1. After you are done with that your box should look like this. This picture also shows how we had the clamp to attach all the four sides together.
7. Now it's time to add some decorative details. Using the 0.25 sanded plywood that was left I cut out a couple of 2.25 inch strips that were 4 ft long.
I recommend starting on the front of the toy box with the long pieces first. The two long pieces were 33.5 inch long with 0.25 inch hanging off on either side.
This will be were the decorative detail from the short sides will match up. I nailed both long pieces in place making sure I only hit the 1x 1.
8. Then I added the short decorative pieces on the front. I found the best way to do this was to measure the board on the box. Mark the length on your board and then immediately cut and nail in place.
I lined up the short decorative pieces so that will also have a 0.25 inch over hang.
9. I repeated this same process on both short sides of the toy box. Start with the longer horizontal edges first.
Each horizontal edge will need a 0.25 over hang. I did not add any decoration details to the back. I did add decorative details to the lid but since it was not meeting any sides I didn't add any extra length.
10. Before I painted, I filled in the holes from the nail gun with this filler. Once it was dry I sanded the entire box. I found it was easier to paint before I attached the lid. I used Rustoleum Painter's Touch in white semi-gloss.
11. Finally I attach the lid. I started by attaching each of the 4 hinges to the 1 x 1. Then I attached the hinges to the lid.
That is it! I loved how it turned out and how it looks in my daughter's room! Plus it has definitely achieved my goal of eliminating all the dress up clothes from all over the floor.
Originally published April 22, 2019