When I found out I was pregnant I thought two things 1. Yay a baby! 2. Yay I have a reason to re-do a room! So when I started planning a baby girl's nursery I started with my favorite places to get furniture…thrift shops, yard sales and online resale sites! I know what you are thinking, "What? You are using used furniture for your baby?!" Yes, it's the best! With some elbow grease and paint you can get some great used products. We probably spent right under $500 for the entire room. Here is how we did it.
Affordable Baby Girl's Nursery
First the most important thing; the crib. We had some friends that were gracious enough to give us one of their old cribs. Sweet!!! Free!!! It was a medium tone wood color it so I decided I wanted to paint it white.
I didn't want to use just any paint for the crib considering Baby S would probably chew on the sides. That when I found Lullaby paints. I love their paints! It's completely safe for baby and won't hurt baby if she bites the crib (which a year later she has chewed on the crib many times).
I wanted to add some family pictures to her room so I took an old window frame I had, cleaned it up and put pictures of family behind it.
The rocking chair I found in a garage sale in a small town in Oklahoma (my favorite place!). I paid only $15 for it! It was a blonde wood color so I had enough paint left over from the crib that I used the same Lullaby paint for the chair too. The cushion we recovered from some old cushions my mom had and wasn't using. That made the sewing super easy!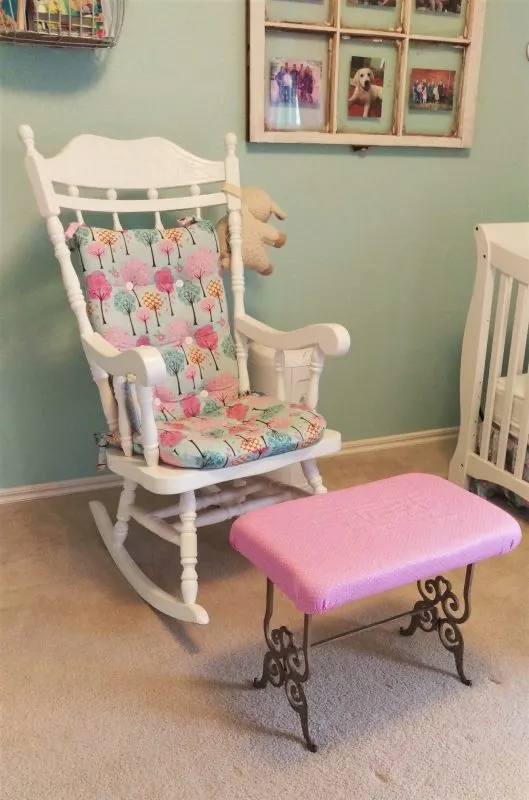 I found the stool at a thrift store, replaced the cushion and recovered it with some coordinating fabric.
These old plant holders I found at a thrift store in Texas. I thought they would be super cute as an accent to hold books or something.
So we sprayed painted them and secured them to the wall.
The dresser we found online for $125. It was very poorly painted black but it was a huge dresser for a great price so… yes please! After two coats of Kiltz primer and a coat of normal white paint it was ready to go! We got a piece of glass for the top to prevent scratches and changed out all the handles.
The letters I got at Hobby Lobby. I painted the letters grey with some left over paint I had on hand and then added clear glitter paint (everything is better with glitter). The frames were from a thrift store. I got three of them for $12!
With the last frame I created a bow hanging board. I stapled ribbon to either side of the window and then stapled fabric, batting and added a cardboard to the back. Baby S has A LOT of bows and headbands.
We also built a quit rack that my husband attached to the wall. It's one of my favorite items in the room. I made the top quilt, the middle quilt is from my husband's grandma and the bottom quilt is from my grandma.
We made two shelves to hang some headbands and display some stuffed animals.
Lastly I made this growth chart for Baby S. I mixed a couple of stains to get the color I wanted. Then I printed off numbers and cut them out. I traced around the numbers and measured out where to mark the feet and inch markings. Then I went over everything with a paint sharpie and secured it to the wall.
I was pretty happy with how our baby girl's nursery turned out. I wanted something that would grow with her for a couple of years and the best part was the price for all of it! Don't be afraid to re-furbish pieces for those precious babies' rooms. They can look great and you can save a ton of money too!
Want to pin this for later?
Originally published June 20, 2016