When we moved in to our house a couple years ago I knew I wanted to do something with our large dining room wall but I wasn't sure what to do. I wanted something that would make a statement but I wouldn't hate in a year.
After lots of thinking and looking at different ideas, I finally came up with this idea for creating an accent wall and loved how it turned out! Here is how we did it.
The before picture:
We decided to use MDF 15/32 thick board because it's cheap but durable and strong. We knew we were painting it so we didn't need a wood grain.
The hardest part was figuring out the dimension the blocks for our accent wall. We knew that we wanted complete blocks that weren't cut off on the sides, bottom or top. Once we got the math and the dimension of our blocks for our wall figured out the instillation was relatively easy.
First, we started by cutting the MDF into 4-inch-wide strips. Then cut all our boards to the right lengths except for the boards for the top of the wall and the right side.
We started on the lower left side of the wall and nailed the boards into place using a brad nail gun. The most important thing is to make sure the boards are exactly vertical using a level.
We also started on the bottom because most walls are not entirely square. So if we needed to make slight adjustments that would be different it would be less noticeable at the top and the right side of the wall. We built one completely vertical row at a time then started at the bottom on the next row.
Once we finished all the blocks, we used dry wall spackle to fill in the nail holes and the cracks in between the boards. One thing we wish we would have been more carefully with was how we applied the wood filler. It took the paint slightly different then the rest of the wall and the wood and we ended up having to sand the filler and repaint.
We also took wood caulk and filled in around the back of the blocks. Most walls aren't completely flat. We had a couple places that took several layers of caulk to completely fill in but the caulk ended up taking the paint really well.
After that all that was left was painting! It took three coats of SW 9177 Salty Dog using the duration level paint. The results are well worth it though!
We love how it turned out! Thinking of tackling an accent wall? We would love to hear your ideas! Let us know if you have any questions!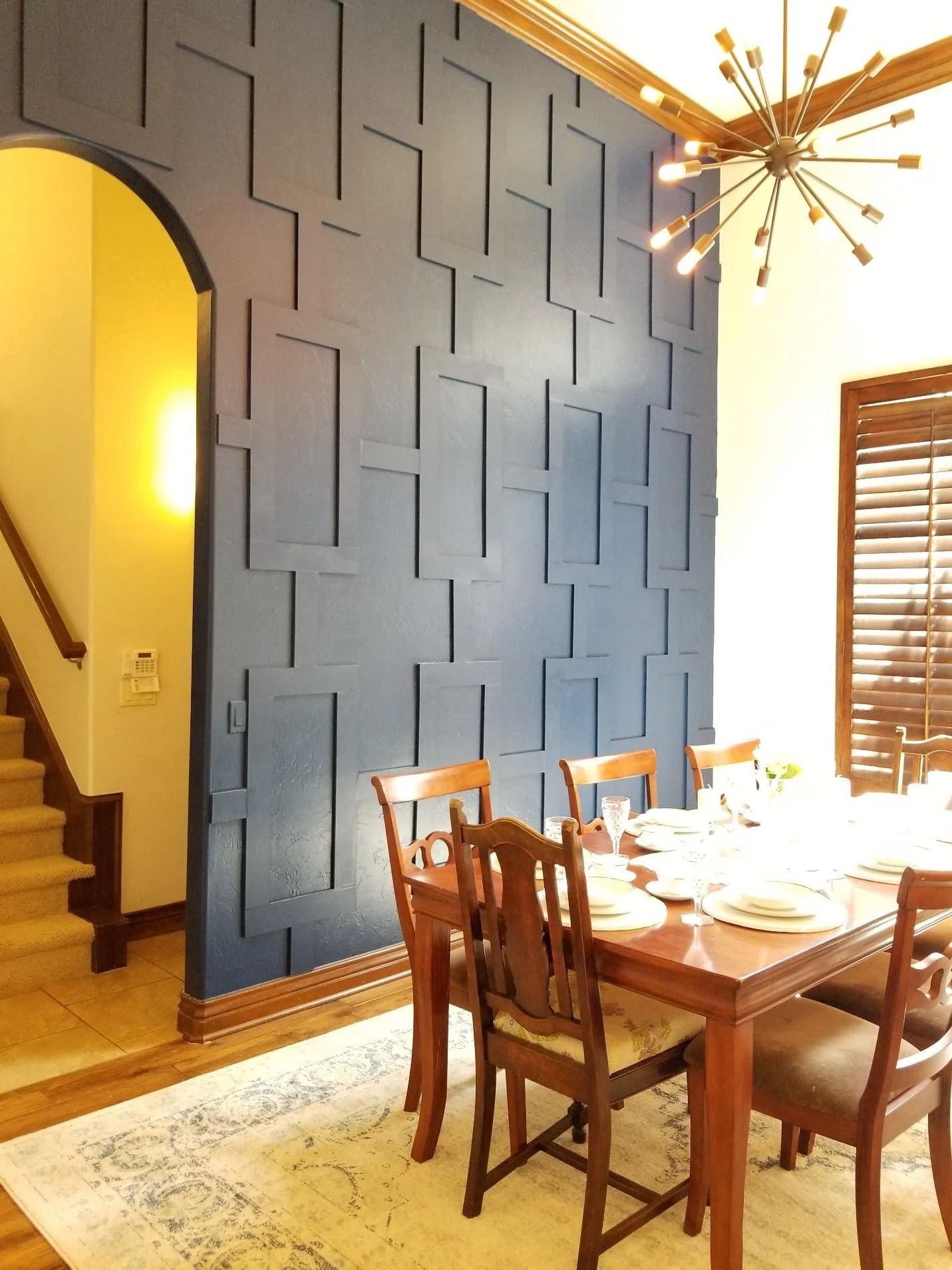 Love this idea for creating an accent wall in your home? Pin it for later!