It's hard to beat an easy slow cooker meal! This recipe for salsa verde chicken couldn't be easier, or yummier too!
This is truly one of the easiest slow cooker chicken recipes you will ever make. It's delicious and versatile and I can't get through a month without making it at least a couple of times.
I got the original recipe from one of my favorite sources for yummy food.
Salsa Verde Chicken Ingredients:
6-8 chicken tenderloins (you can use more or less just adjust the amount of salsa to make sure you have enough liquid)
1/4 tsp garlic powder
1/8 tsp oregano
1/8 tsp ground cumin
16 oz salsa verde (La Costeña is my favorite)
*The original recipe calls for salt to taste but I have never thought it's needed, the salsa adds plenty of flavor.
Step 1: Dump your frozen chicken tenderloins into the slow cooker
Step 2: Pour most of a 16 oz jar of salsa verde over the chicken.
Again use more or less depending on how much chicken you want. A note about the salsa, I have used multiple brands for this recipe, they were all good, but La Costeña is definitely my favorite. It adds an extra spiciness. If you're not into spice use another brand.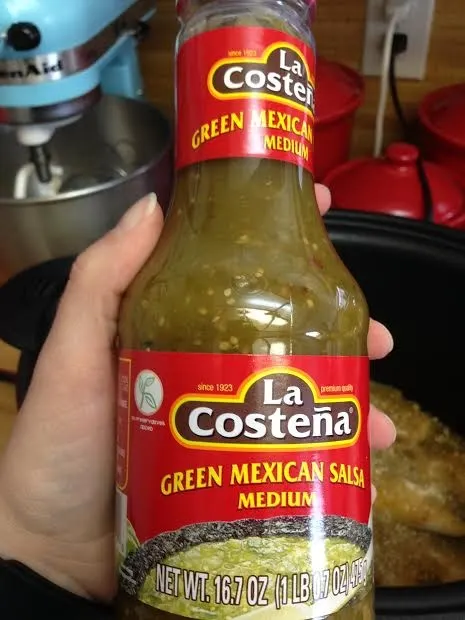 Yes I could be a hand model, thank you for noticing.
Step 3: Pour your spices into your slow cooker.
This recipe is so forgiving. I have accidentally doubled spices, forgotten spices, put the wrong one in; it's still good.
Step 4: Go do something else for 3 ½ – 4 hrs while this cooks on low (allow for more time if you use chicken breasts)
Step 5: Take out the chicken and shred it.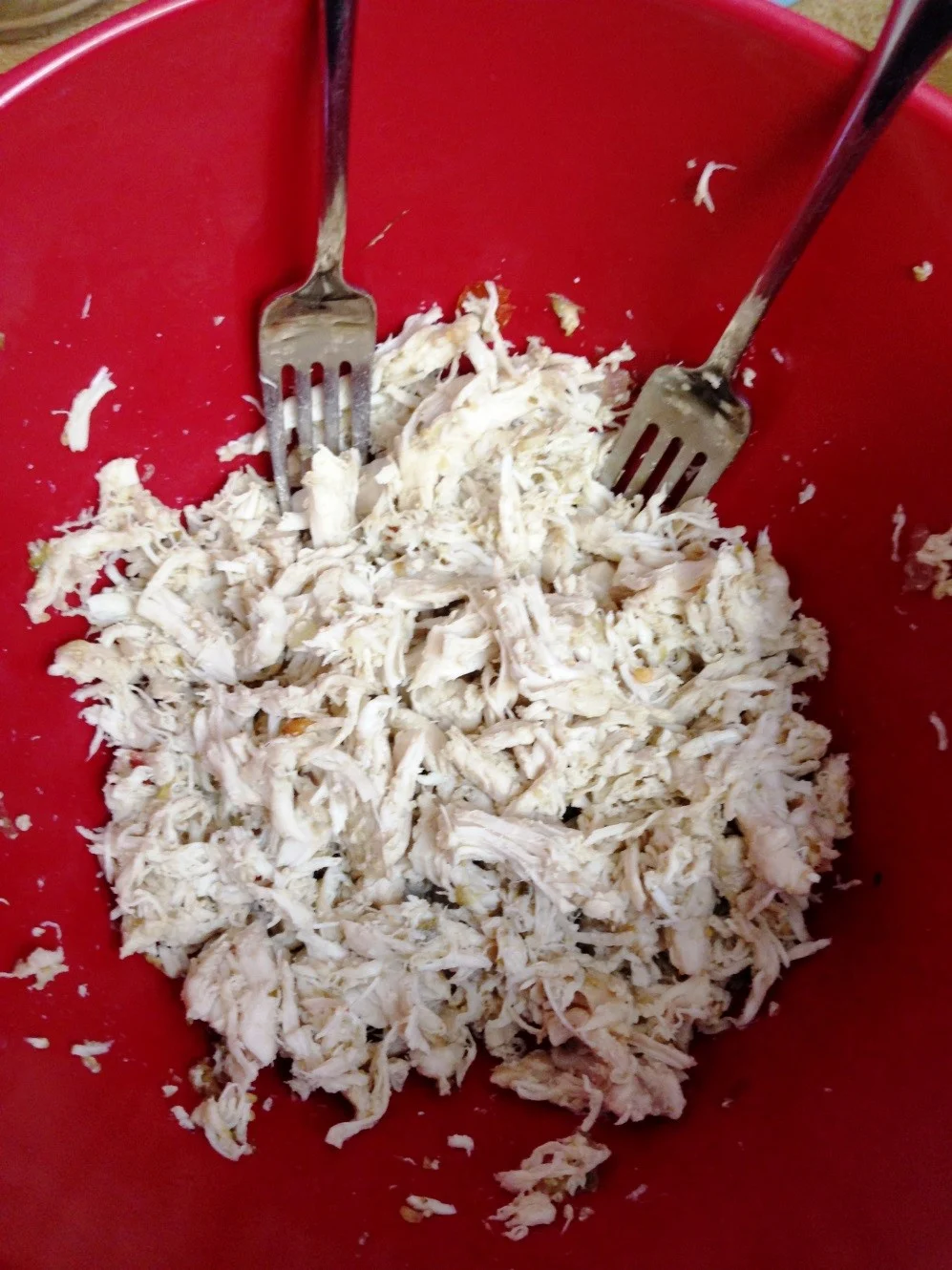 My food photography is pretty amazing; don't let your jealousy intimidate you
Step 6: Pour the shredded chicken back into the liquid in the slow cooker and let cook for another 30 minutes.
It tastes better than it looks.
Step 7: Serve. I recommend using a slotted spoon so your chips or taco shells don't get soggy.
This slow cooker chicken can be used for so many things, I usually use it over tortilla chips or corn tortillas the first night and then I use the leftover chicken to make awesome enchiladas, Mexican casserole or tortilla soup.
You can also serve it over beans or rice and make a burrito bowl. Top it with shredded cheese, cilantro, onions, sour cream, etc. My favorite topping I've ever used with it was pineapple salsa.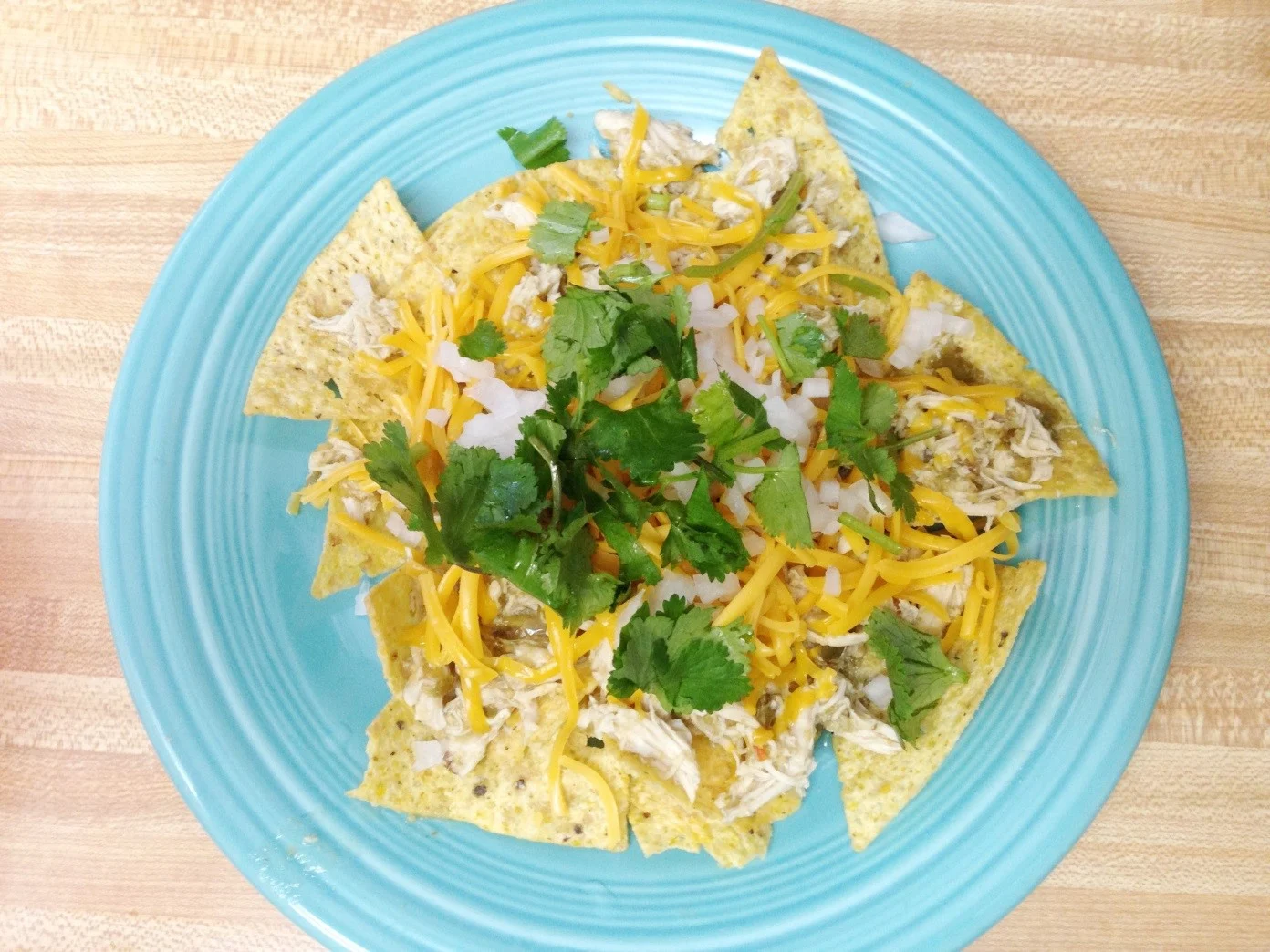 Originally posted 3/13/2015