Happy National Chocolate Chip Cookie Day! Truthfully, I don't know where these holidays come from but who I am to question a day dedicated to celebrating something delicious?!?
The internet tells me that May 15th is National Chocolate Chip Cookie Day. Since the internet is never wrong, I am going to share with you the most delicious chocolate chip cookie recipe ever – Oatmeal Peanut Butter Chocolate Chip Cookies! My dear and wonderful friend/baker extraordinaire, Kari, introduced these cookies to our family several years ago and we have never looked back. If chocolate chip cookies are happening in the Perrey household, they are Oatmeal Peanut Butter Chocolate Chip Cookies.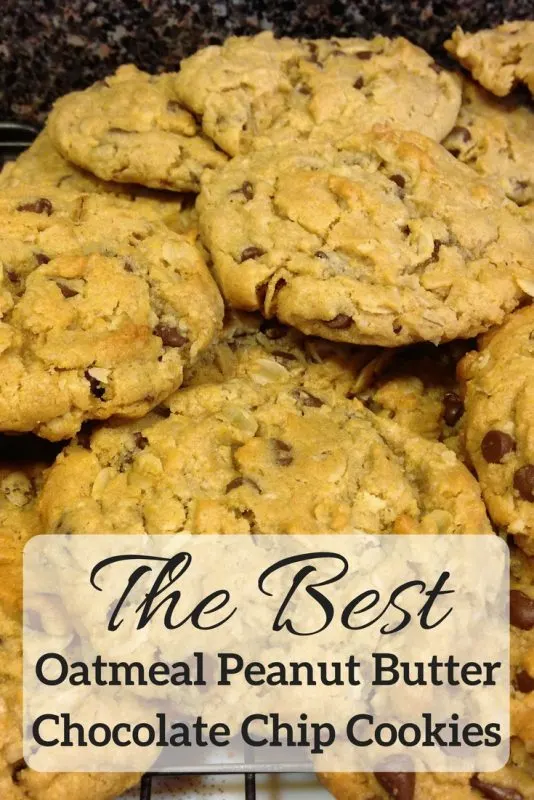 Here are the players:

1 cup sugar
1 cup brown sugar
1 cup shortening
1 cup peanut butter (must be regular, not natural – despite what the picture shows)
3 eggs
1½ cups flour
1 tsp soda
1 tsp salt
1 tsp vanilla
2 cups quick oats (I always use old fashioned because that's what we have on hand)
1 cup chocolate chips
Preheat oven to 350 degrees.
Cream shortening and sugars.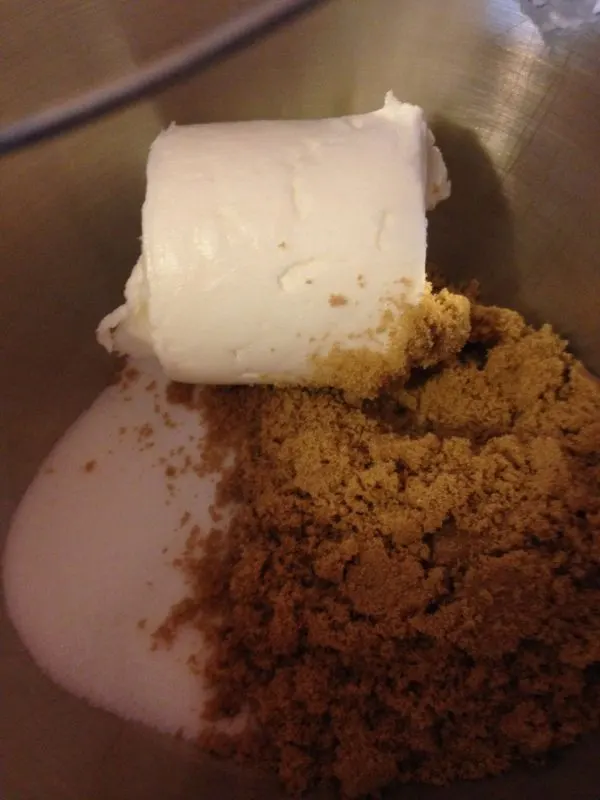 Scrape sides, add eggs and peanut butter. Beat well.
Mix flour, salt and soda. Gradually add to sugar mixture then add vanilla.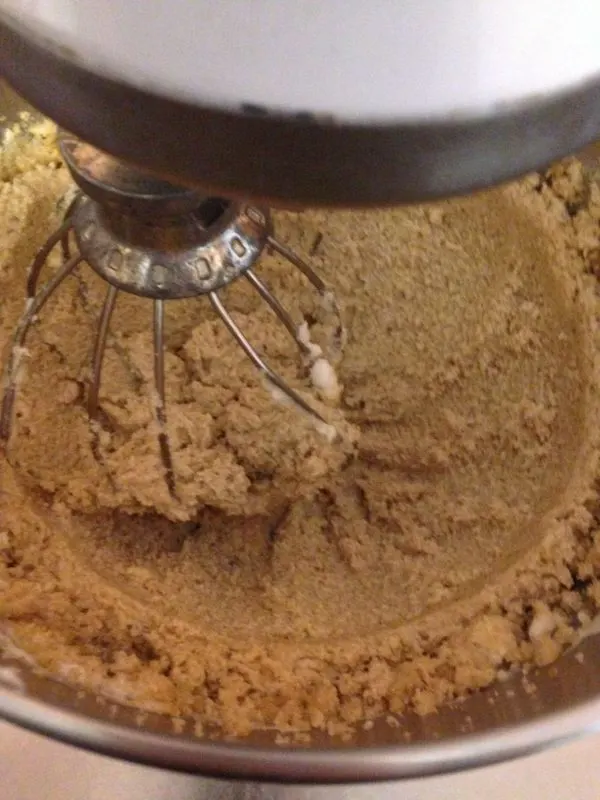 Stir in quick oats and chocolate chips
Drop by heaping teaspoons onto cookie sheet. Bake at 350 for about 15 minutes. Check at 11 minutes.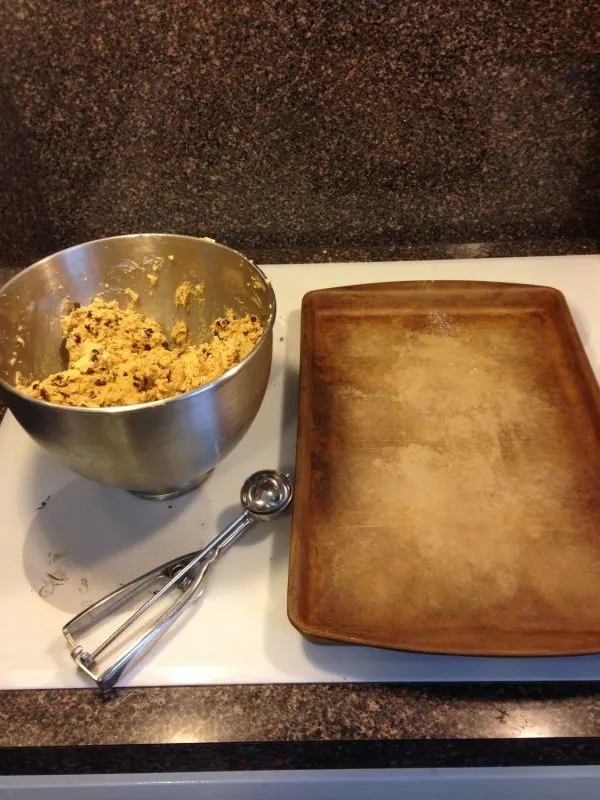 This might sound odd, but pull the cookies out of the oven at 11 minutes and bang the cookie sheet on the counter a few times to flatten the cookies. For some reason, this keeps them moister for longer. Moister? Is that even a word? Auto-correct seems to think so, so we will go with it. Also, don't bang the cookie sheet if you are using stoneware. It seems obvious, but I don't want this article to be responsible for the destruction of perfectly good stoneware. No cookie is worth that…though these oatmeal peanut butter chocolate chip cookies come close.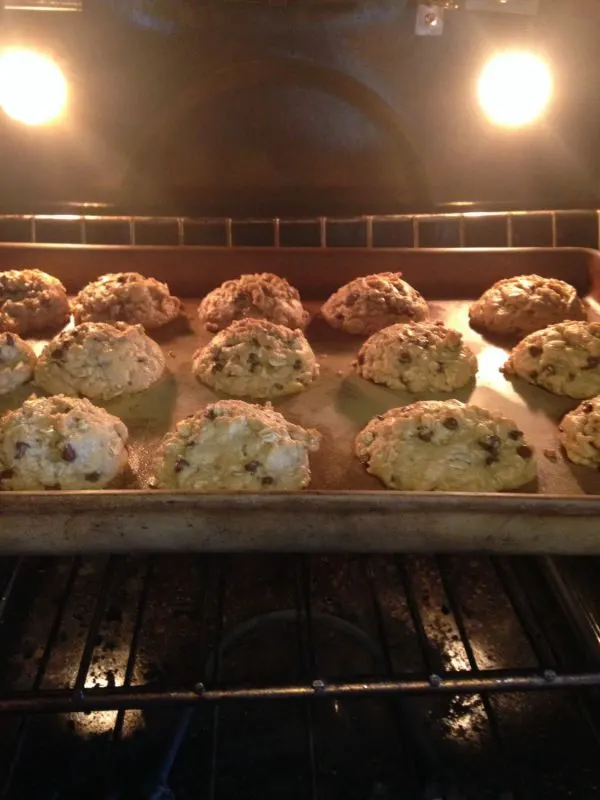 Pop these delicious babies back in the oven for another minute or two, until just barely golden brown. Do not overcook or you will regret it for all of your days.
Once they reach the desired color, cool on a cooling rack and then devour.

What is so great about these chocolate chip cookies is that they are just as good (if not better!) the next day. Please do yourself a favor and dip them in milk. You can also pre-shape the cookies into balls and freeze for individual consumption. We tend to leave the dough in the fridge and make them a few at a time. A life with daily cookie consumption is a good life indeed.
So go! Celebrate National Chocolate Chip day with these delicious oatmeal peanut butter chocolate chip cookies. I can almost guarantee it will be the best decision you make this May 15th.
Looking for more chocolate chip cookie recipes? Give these Crunchy Jumble Cookies a try!
Originally published May 15, 2016