I miss England every day. Some days, more so than others. Today is one of those days. SO, I shall eat my feelings in the form of these delicious and amazing Oat Scones. These are not your traditional scones but are easy, hearty, and full of comfort.
Here are the players:
1 1/2 c. flour
2 c. rolled oats
1/2 c. white sugar
4 tsp baking powder
1/2 tsp salt
1/2 c. dried cranberries or raisins or currents or something (If you want, I'm weird and like mine plain)
1 egg, beaten
1/2 c. butter, melted
1/3 c. milk
1. Preheat the oven to 425 degrees.
2. Mix dry ingredients.
3. Beat the egg and stir in the milk and melted butter.
4. Make a well in the center of the dry ingredients and mix into a soft dough.
5. Dump the dough straight onto your cookie sheet. Use a piece of parchment paper, if you want.
6. Pat dough into about a 1/2 inch thick circle.
7. Cut 8 wedges into each circle.
8. Bake 15-20 min. Loosely cover with foil to keep from browning too much. Check at 15 minutes if still not done*, take off the foil and do another few minutes.
*stick a toothpick into a thick part of a scone and if it comes out clean, you are good to go, if it comes out with some gooey stuff on it, do a few more minutes.
9. Serve warm and drizzled with honey (trust me.)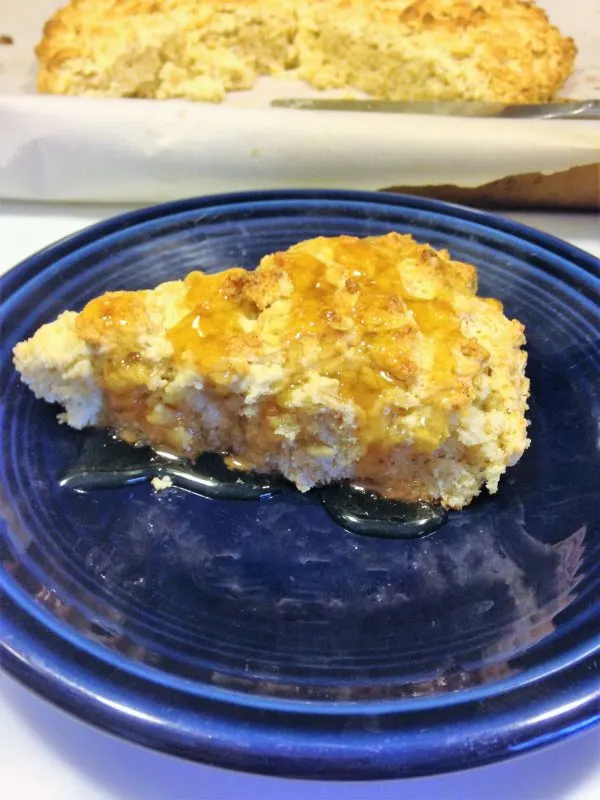 Devour and enjoy with the Perfect Cup of Tea or with some Mock Clotted Cream! Grab your fancy hat and white gloves and get ready to go CRAZY!
Cheers!
Originally published March 28, 2016