Whether you need to feed a crowd at home or find the perfect dish to take to the church meal, here are 20 potluck ideas sure to be a hit. Planning for your next potluck meal will be a snap with this roundup of easy recipes!
Christmas parties, Thanksgiving feasts, community dinners, company lunches…you need potluck ideas, and you need them fast!
Every time an event comes along where I'm expected to take a meal I panic. I barely can get dinner on the table for my family, let alone plan food to take to others! Frozen lasagna has quickly become my go-to.
Considering my last attempts at making that frozen lasagna have left me with burnt edges and a frozen middle, I thought perhaps I needed some more options. Specifically, easy options. And that's what I found!
What makes them perfect potluck recipes?
Ingredients that aren't difficult to find. (No trips to specialty grocery stores.)
Requires minimal prep
Great for feeding a large family or group of people
Delicious! (Why waste your time making something that isn't good!)
This post contains affiliate links meaning purchases made through included links may result in Splendry earning a small commission at no cost to you.
Don't forget these!
You've likely got to transport that food now that you've made it! Here are a few favorite items to help you get your food where it needs to go!
Here are 20 easy potluck ideas that will help take one more thing off your plate. (And yes, that's a potluck pun.)
Easy Potluck Ideas – Entrees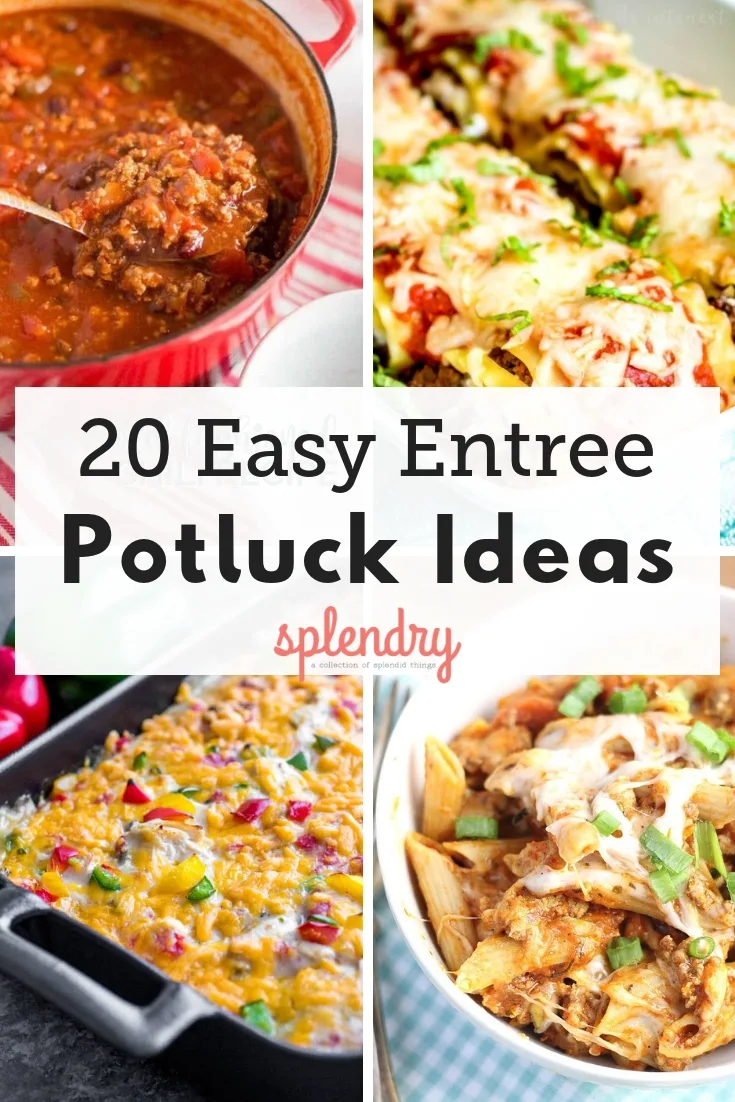 Easy Entrees Perfect for a Potluck
Have some suggestions for more potluck ideas? I'd love to know what your go-to meal is to feed a crowd!
Originally published November 21, 2018