Ah, the tastes of Christmas; gingerbread, peppermint, Cheeto puffcorn…Yeah, you heard me. (Read me?) I went to a potluck Christmas party recently and noticed what looked like a bowl of large popcorn on the table. (And I thought I had taken the easy route with frozen cream puffs.) Within minutes, people were crowded around the table, totally focused on this bowl of giant popcorn. In fact, all night, people kept talking about it, passing it around, and taking handfuls as they left. What gives? What gives, actually, is probably the easiest and most addicting dessert ever: Almond Bark Puffcorn.
It requires two ingredients, can you guess what they are?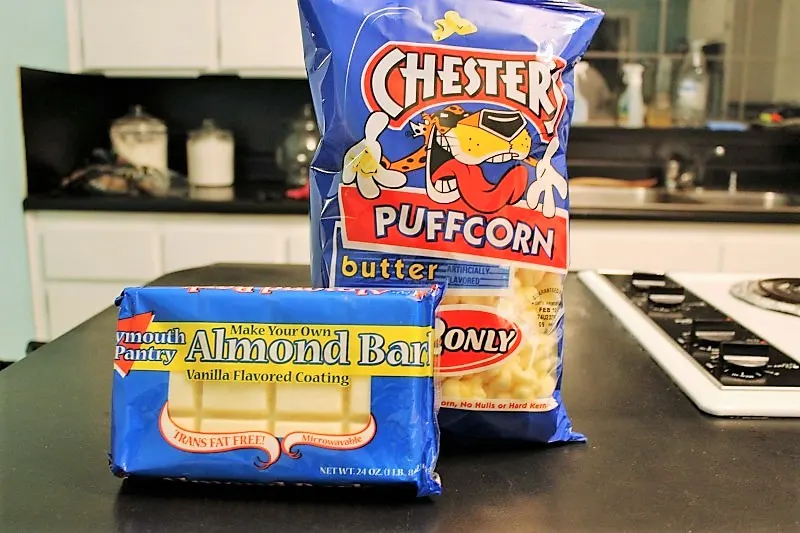 It doesn't get much easier than this!
Almond Bark Puffcorn Ingredients:
Almond Bark
Chester's Puffcorn – butter flavored
Instructions
1. Cut the block of Almond Bark in half and microwave to melt. (I started with 45 second increments, on high and kept stirring until it was melted.)
2. Pour the Puffcorn into a bowl and then pour the almond bark over it while stirring to get it evenly coated.
3. Spread the Puffcorn onto some wax paper to cool and set.
Now take it to a party and sit back and watch the reaction. You'll be winning popularity contests in no time.
Originally published December 18, 2014
The following two tabs change content below.
Jamie loves a little black dress, chips and salsa, and is obsessed with subscription boxes. She tries to maintain an air of sophisticated city life while actually living next to a wheat field. Or is it alfalfa? Corn? She doesn't know. You can find her blogging about style and shopping at JK Style. She lives in rural Oklahoma with her husband and baby boy.