Whether you're celebrating May the 4th Day, or just love a good Star Wars party theme, these are some fun ideas! Decor to food, throw an epic Star Wars bash!
I love to throw parties, especially themed parties. More than that, I love throwing Star Wars parties!
We have thrown several so I would like to consider myself a quasi-expert when it comes to creative ways to party with the Force. My son turned 4 recently and he asked for a Star Wars party. We were happy to oblige!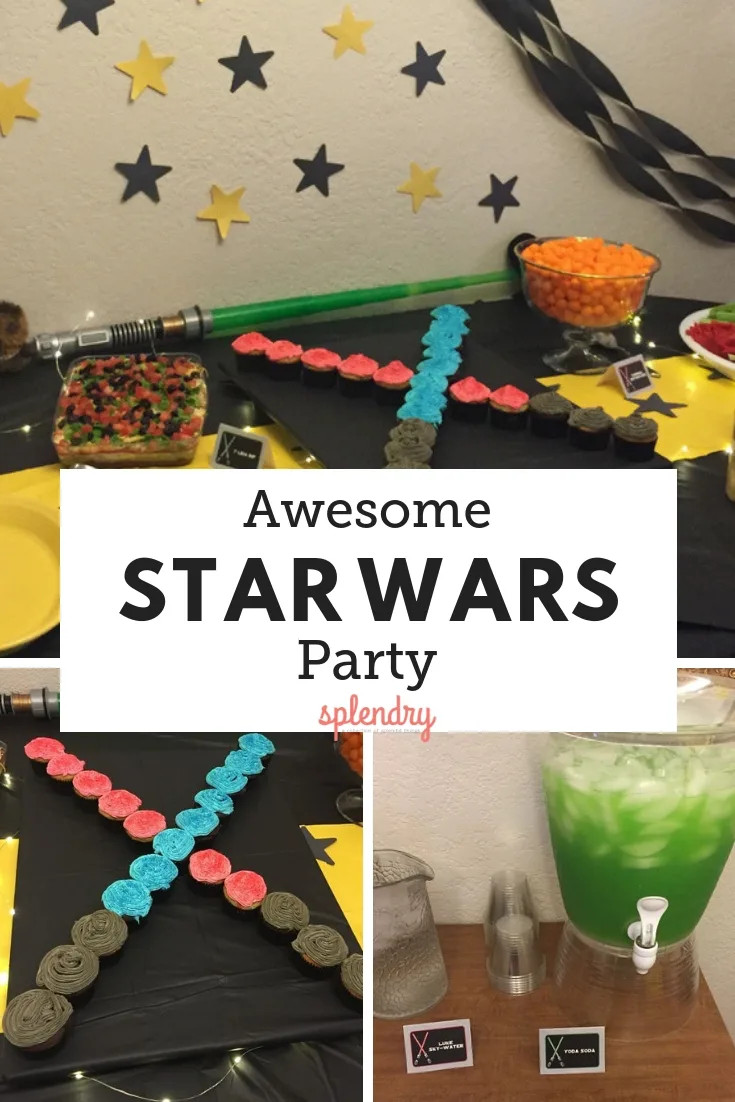 I want to share our various ideas so that you can have an epic "May the 4th be with You" Star Wars party!
First things first…food.
We have several menu items that we have used in the past but for George's party, we went classic and simple.
Star Wars Party Food and Drinks
Hutt Dogs
Coruscant Condiments
7 Leia Dip
Trooper Scoopers (corn chips)
Thermal Detonators (cheese puffs)
Vader Veggies
Yoda Soda
Luke Sky-Water
And George's cake: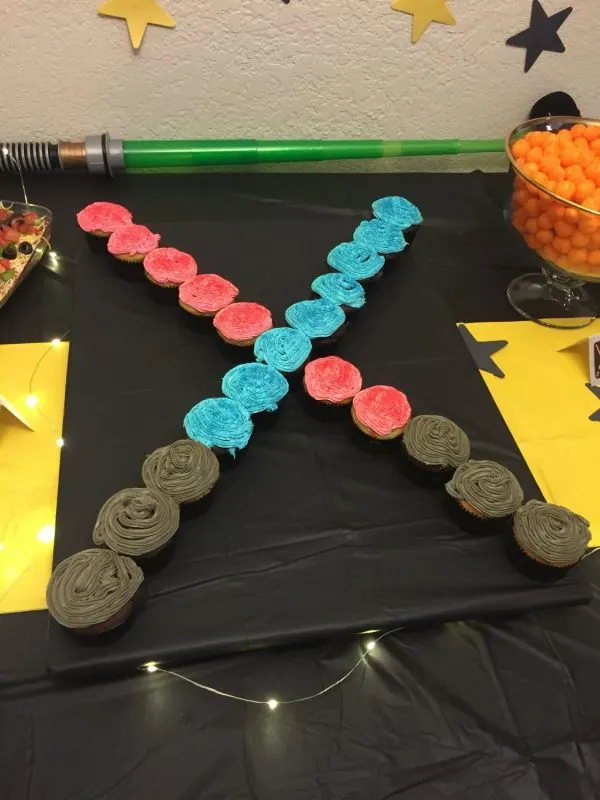 You can find some printable labels on Pinterest. I ordered editable labels from this Etsy seller and was very pleased with them. I chose editable because there will be future Star Wars parties, obviously.
Here are some other foods we have done in the past:
Obi-wan-kabob-i's (kabobs of different types)
Light Sabers (red and blue chocolate covered pretzel wands)
Jabba the Hummus Dip
Dark Side Dip (black bean dip)
Wookie Cookies
7 Leia Salad
And because we border on awesome and ridiculous, we had a bacon-themed Star Wars party.
Hutt Tails (jalapeno poppers)
Han Burgers (with and without chew-baccon)
Jar-Jar Binkon Dip (chip dip with bacon)
Vader Taters (potato skins or cheesy bacon tater tots)
Tattooine Tenders (chicken tenderloins wrapped in…you guessed it…bacon. My readers are the smartest!)
Now for décor. I chose yellow and black. There would be a few things I would do differently, but overall, I was pleased with it.
Though it did remind me a bit of someone's senior prom, "Night Under the Stars" or something.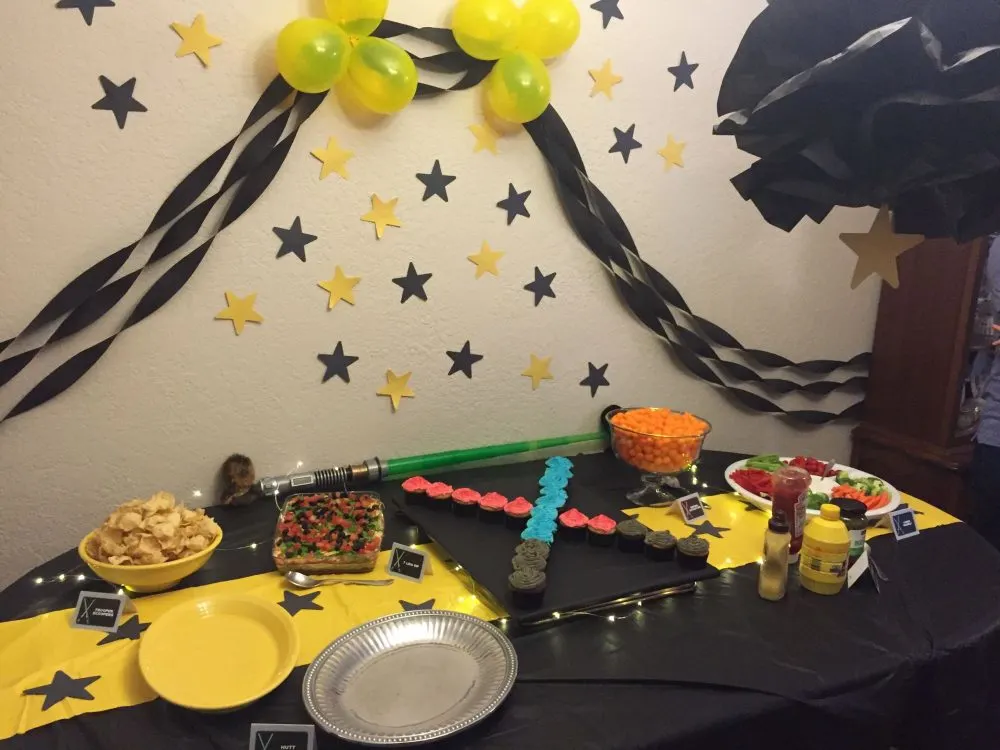 I used the die cutter at our church to cut all the stars and just threw them on the wall. If I could do it again I would have put a black table cloth or something like that up on the wall and just used yellow stars.
I would also print a banner that says Happy Birthday in the Star Wars font (you can download one here).
We also put this in the bathroom:
If we had served any dishes that required forks I would have had a sign that said "Use the Forks, Luke." Sigh…I love themed parties so much.
Side note: For every birthday party we have for George, we always find a book to go with the theme that we have all the guests sign. This won't necessarily work for the epic Star Wars party that you are going to throw, but you should know about it anyway.
The star (pun intended) of every Star Wars party we have hosted has always been the Yoda Soda. It is SO easy and SO delicious. Here are the ingredients and instructions:
Yoda Soda Recipe
2 packets of lemon-lime Kool-Aid
1 cup sugar
46 oz pineapple juice (chilled)
12 oz frozen lemonade
32 oz ginger ale (chilled)
2 quarts of ice water
Combine the water, Kool-Aid, and sugar. Once dissolved, add the pineapple juice and lemonade concentrate. Stir well. Before serving, add the ginger ale and TONS of ice. It is best really cold.
I hope you are inspired to go and host the best Star Wars Party Ever! And if you need some more ideas, head here!
May the Force (and the 4
th
) be with you!
Originally published May 3, 2016