Celebrate your baby's first birthday with a Happy Bee Day party! Everything you need for a sweet celebration!
When I found out I was pregnant with my first baby the very first thing that popped into my head was that he was going to be a Christmas baby. I was already mad at myself for not planning better. (Oops.)
His due date was December 22 and I pictured years and years of trying to fit in a birthday party days before Christmas when everyone's calendar is already filled to the brim with holiday parties and events.
Poor kid. He wasn't even born and I was already worried about a life of being overlooked and forgotten. I mean, obviously I wouldn't forget. But, still.
When he was born (on December 18th) I felt a tiny bit better. He had earned himself a few more days between in which to celebrate and I vowed to always make a special effort to make sure his birthday got all the attention it deserved. (I kind of love birthdays!)
And then, his first birthday arrived.
It was an even busier time than normal, with big family events and activities and before I knew it we were a couple of weeks out and I had no plan. And while he wouldn't remember anything about his first birthday party, I certainly wouldn't forget if I had just let if slide past without some sort of celebration!
I opted for a fun (and easy!) Happy Bee Day party that turned out beautifully! I come from a family of beekeepers (my family has been in the honey business for many, many years) so it had a special meaning to me too.
If you're on the hunt for a birthday theme yourself, here are a few ideas that might help!
Happy Bee Day 1st Birthday Party
This post contains affiliate links meaning purchases made through included links may result in Splendry earning a small commission at no cost to you.
Bee Day Decorations
I turned to Etsy where I found a perfect Bee Day birthday kit ready for me to download. It included a few signs, cupcake wrappers and toppers, banner tiles, place cards, thank you notes, and more. I didn't use everything in the kit but for under $15 it was a great buy!
I spent an additional $15 or so printing things off at Staples. (I was crunched for time so I printed more things than I actually ended up using.)
I liked the idea of using hexagon shaped shelves for the cake table and happened upon a great buy! I found shelves at Forever 21 (of all places!?) for about $12 each for a set of three. It happened to be Cyber Monday when I ordered them so I also got an additional 30% off and free shipping.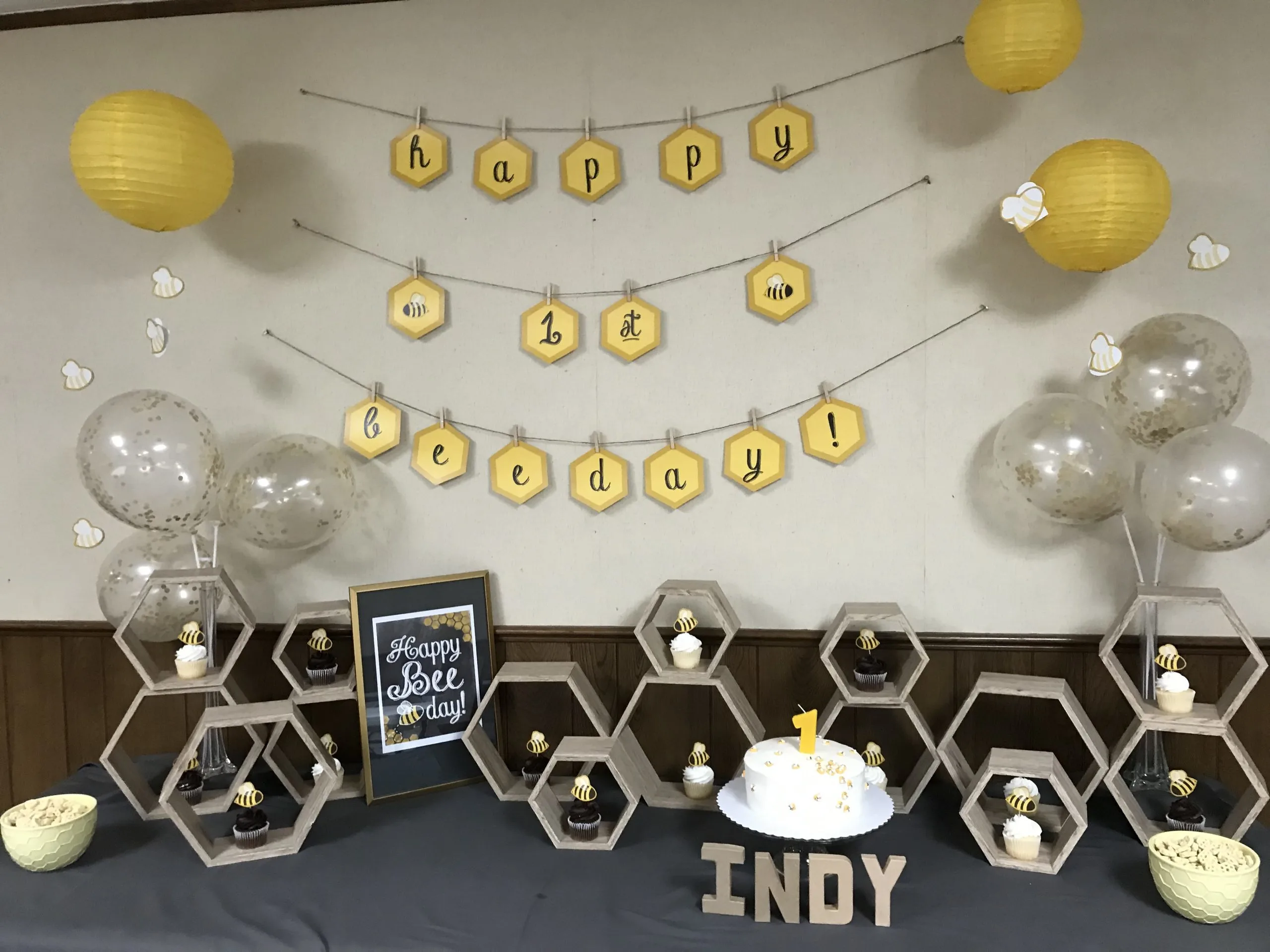 In all, I spent about $50 on five sets of shelves. I should note that I plan to use these shelves in my home decor now too! These particular shelves don't seem to be available anymore, but keep an eye out online!
Bee Day Food
I planned his party for a Sunday evening and just invited everyone from church to stay after for dinner and cake. My mom and I planned a simple menu of Pulled Pork Sandwiches (grab this recipe!), chips and salsa, and a couple of bee-themed treats!
We served bee fruit skewers, made using purple grapes and pineapple chunks.
We also served Honeycomb cereal, which all the kids loved!
I ordered a cake and some cupcakes from the Walmart bakery and they were delicious! I used the printable cake toppers (taped to toothpicks) on the cupcakes and used a set of candied bees found at Target. They've also got them on Amazon.
I picked up a set of cardboard letters to spell out my son's name, and since they matched the kind-of rustic display, I left them as-is!
I bought a set of cheap paper lanterns and confetti balloons to finish off the look.
The birthday banner was hung using twine and clothespins.
Bee Day Birthday Shirt
To go with the party theme I wanted to find a cute shirt for my son to wear to the party. I found this design on Etsy and it was perfect!
My only suggestion would be to size up. I ordered the 12-18 month size for my almost-12 month old and it was snug. (He was still wearing more 12 month clothing at the time.) It worked for the party but I would have definitely sized up had I known.
That was it! It's more than safe to say that everyone enjoyed the party and that my son had the time of his life! Seriously, you've never seen a kid enjoy a party more than he did! It was a Happy Bee Day for sure!