Outdoor decorations for Halloween aren't just limited to lights or plastic pumpkins, there are all kinds of fun ideas!
My oldest son was born a week before Christmas. And as all Christmas babies, he…loves Halloween.
Don't get me wrong, he's into Santa, presents and all that, but his first love? Halloween! (In fact, he's got a YouTube channel dedicated to his love of Halloween inflatables.)
Because of my children, I've become a person who decorates for Halloween. Inside AND outside. As I prepare for another spooky display, I thought I'd see what other outdoor decorating ideas there might be!
One surefire way to immerse yourself in the spirit of the season is by decking out your outdoor space with spine-tingling decorations. Whether you're aiming for a playful atmosphere or a truly haunting experience, outdoor decorations for Halloween can set the stage for a night of frightful fun.
I've got a range of ideas, from inflatable delights to eerie lighting, that will help you create a Halloween wonderland right in your own yard! If you're ready to take your Halloween celebrations to the next level, I've got you covered.
Ready to transform your outdoor space into a spooky and festive Halloween wonderland? Let's go!
This post includes affiliate links meaning purchases made through included links may result in Splendry earning a commission at no cost to you.
10 Spooktacular Outdoor Decorations for Halloween
1. Inflatable Decorations
Inflatable decorations like giant pumpkins, ghosts, vampires, and skeletons can add a whimsical and eye-catching touch to your outdoor setup. Place them on your lawn or porch for a fun and playful atmosphere.
Or if you're in MY family, spread them all over the yard, the living room, and have enough to share with the neighbors!
2. Colored Lights
Use colored outdoor string lights to create an eerie ambiance. Orange, purple, green, and red lights can give your space a spooky glow. You can wrap them around trees, bushes, railings, and along pathways.
3. Graveyard Scene
Create a mock graveyard by placing cardboard or foam headstones in your yard. You can also add skeletons or zombie decorations emerging from the ground. Scatter some fake spider webs and add ground stakes with LED lights to highlight the scene at night.
4. Pumpkin Pathway
Line your driveway or walkway with carved or painted pumpkins to guide visitors to your door. You can use traditional jack-o'-lantern faces or get creative with other designs. Place battery-operated candles inside for a safe and spooky effect.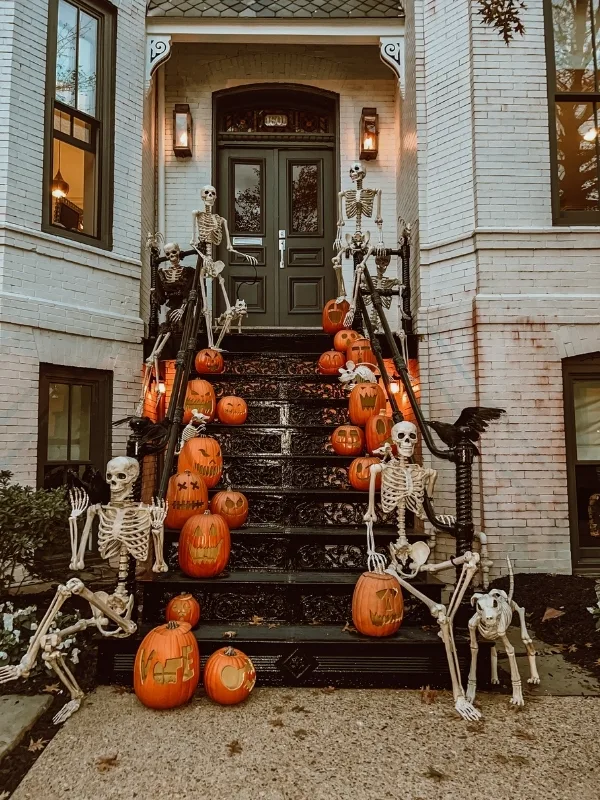 For a chic take on the classic plastic pumpkin, these planters are awesome!
5. Spooky Silhouettes
Cut out spooky silhouettes from cardboard or plywood. These could include witches, cats, bats, and more. Paint them black and place them against windows, walls, or hang them from trees to create haunting shadows.
6. Creepy Crawlers
Use fake spiders and cobwebs to add a creepy vibe. Attach them to bushes, trees, and other outdoor structures. You can even create a scene where spiders have taken over an area.
Last year I found large spiders and colorful web from the dollar store and made a cool display on my house. I'd love to get some large bushes in my flower bed at some point and those would be a fun place to put spiders too!
7. Witch's Cauldron
Set up a witch's cauldron near your entrance. You can create the illusion of bubbling potions with dry ice or colored lights. Place a witch decoration nearby for an added touch.
8. Haunted Trees
Wrap white or orange cloth around the trunks of trees to give them a ghostly appearance. Hang lanterns or spooky decorations from the branches for an eerie effect.
9. Giant Spider
Create a giant spider using black garbage bags for the body and black pipe insulation or pool noodles for the legs. Attach it to the side of your house or a tree for a show-stopping decoration.
You could get smaller store-bought ones and attach using command hooks too!
10. Fog Machine
Add an extra layer of spookiness with a fog machine. Place it strategically near your decorations to create an eerie atmosphere that envelops your yard in mist.
11. Door Display
Don't forget the front door! You can buy posters or decor made just for the door, but it's also pretty easy to DIY. Last year I took some dollar store mesh/net and large googly eyes and created a creepy mummy.
With a bit of creativity and the right decorations, you can turn your outdoor space into a memorable Halloween display!
FAQs
1. What are some popular inflatable decorations for Halloween?
Inflatable decorations are a hit during Halloween. You can place them on your lawn or porch to create a whimsical and eye-catching display.
2. How can I use colored lights for outdoor Halloween decor?
Colored outdoor string lights can be used to create an eerie ambiance. Opt for orange, purple, green, or red lights and drape them around trees, bushes, railings, or along pathways to give your space a spooky glow.
3. What's a creative way to set up a mock graveyard?
To create a spooky graveyard scene, place cardboard or foam headstones in your yard. Add skeletons or zombie decorations emerging from the ground, scatter fake spider webs, and use ground stakes with LED lights to highlight the scene at night.
4. Are there any DIY outdoor Halloween decorations I can make?
Certainly! You can create DIY decorations like spooky silhouettes, a pumpkin-lined pathway, or a witch's cauldron. Get creative with materials you have on hand to add a personal touch to your outdoor decor.
5. How can I safely incorporate a fog machine into my Halloween display?
A fog machine can add an extra layer of spookiness to your outdoor decorations. Place it strategically near your decorations, ensuring it's on a stable surface. Use it in well-ventilated areas, and be cautious with the placement of electrical components to avoid tripping hazards.
With these outdoor Halloween decoration ideas, you can transform your space into a Halloween wonderland that will leave your guests in awe. Whether you prefer a playful or spine-chilling atmosphere, there's something here for everyone.
Remember to prioritize safety, especially when using lighting and fog machines, and let your creativity run wild to make this Halloween a truly memorable one. Happy haunting!