Get in a spooky mood with this awesomely easy DIY Haunted Dollhouse! So cool to display and lots of fun to make!
Every year, it seems that Halloween decorations start popping up earlier and earlier. As someone who is obsessed with the holiday, though, I am OK with that! I monitor stores and browse online, searching for pieces that I feel like belong in my collection.
Some of my favorite decor is actually homemade, such as a pumpkin diorama, Halloween village and séance head. And this year, I am adding one more DIY project: a haunted dollhouse.
How to Make a DIY Haunted Dollhouse
The first step was to acquire a Victorian-style dollhouse. I found some online, but many of them had to be built first and/or were over my budget. I turned to Facebook Marketplace, where I found this beauty for just $13. Be sure to check social media, Craigslist, garage sales, Goodwill and your family members' attics, in order to find your own!
Next, I used acrylic paint (specifically, Apple Barrel Black #20504, if anyone was wondering) to make the exterior and the roof of the house black and the gingerbread trim a charcoal color (by adding some white to the black paint). It would have been faster to use spray paint, but I really wanted the adorable trim to be a separate color and to stand out even more.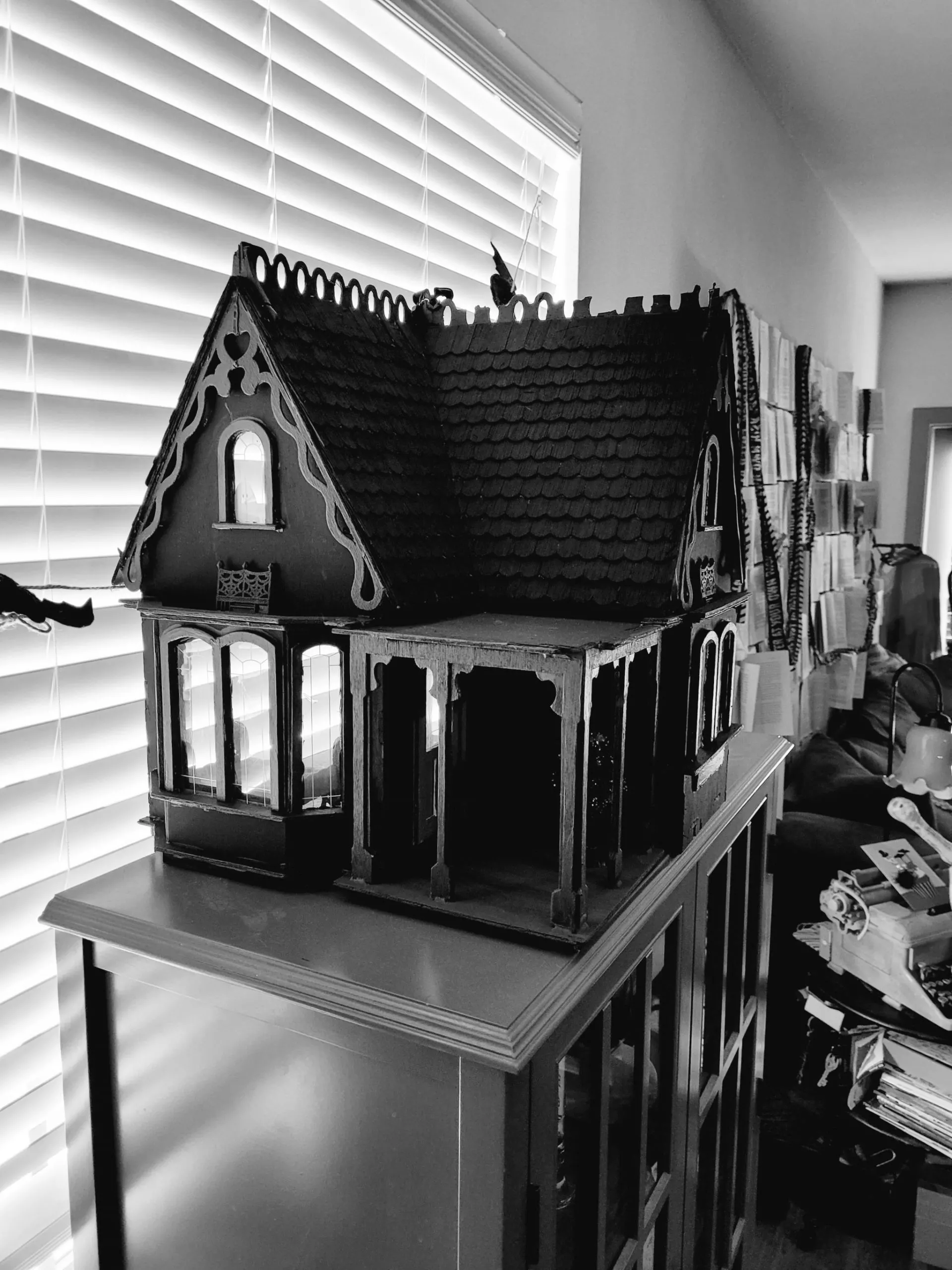 One of the best parts of a do-it-yourself idea is the customization, and I used Halloween-themed scrapbook paper (JOANN Fabrics and Crafts has a great selection) for my dollhouse's floors, walls and ceilings, for unique carpeting, wallpaper and finishes. A glue stick adhered all the paper, and a clear epoxy covered it all, in order to help the paper last as long as possible.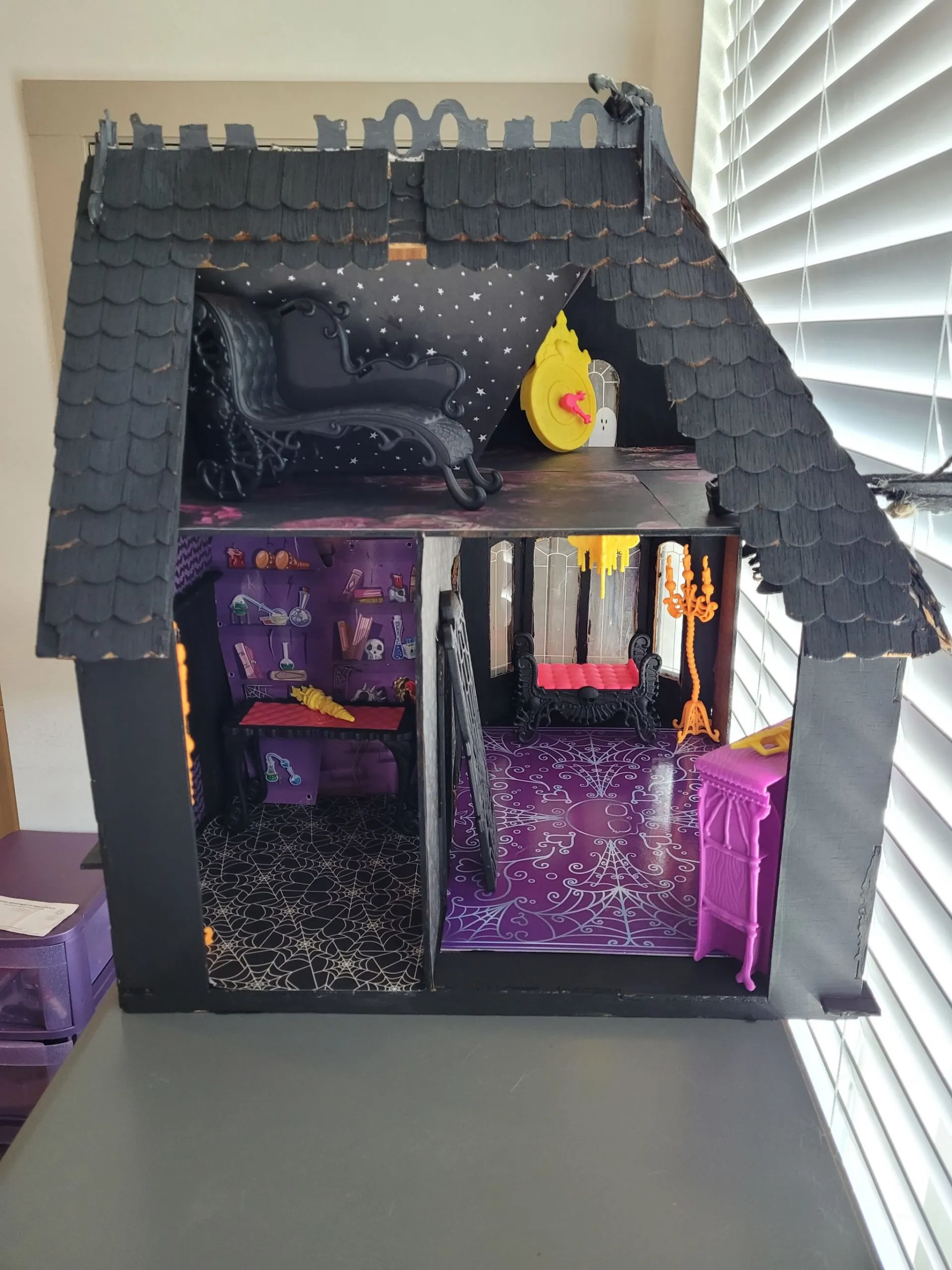 The fun part came next: decorating the home! Places like Michaels and Amazon have endless options, when it comes to miniature furniture, and Etsy has shops that specialize in tiny items for Halloween decorations. Additionally, I snagged some Monster High furniture from Facebook Marketplace, since the spiderweb chairs, tables and light fixtures fit this project perfectly. (I didn't even know this franchise existed, but I'm so glad I found out about it!)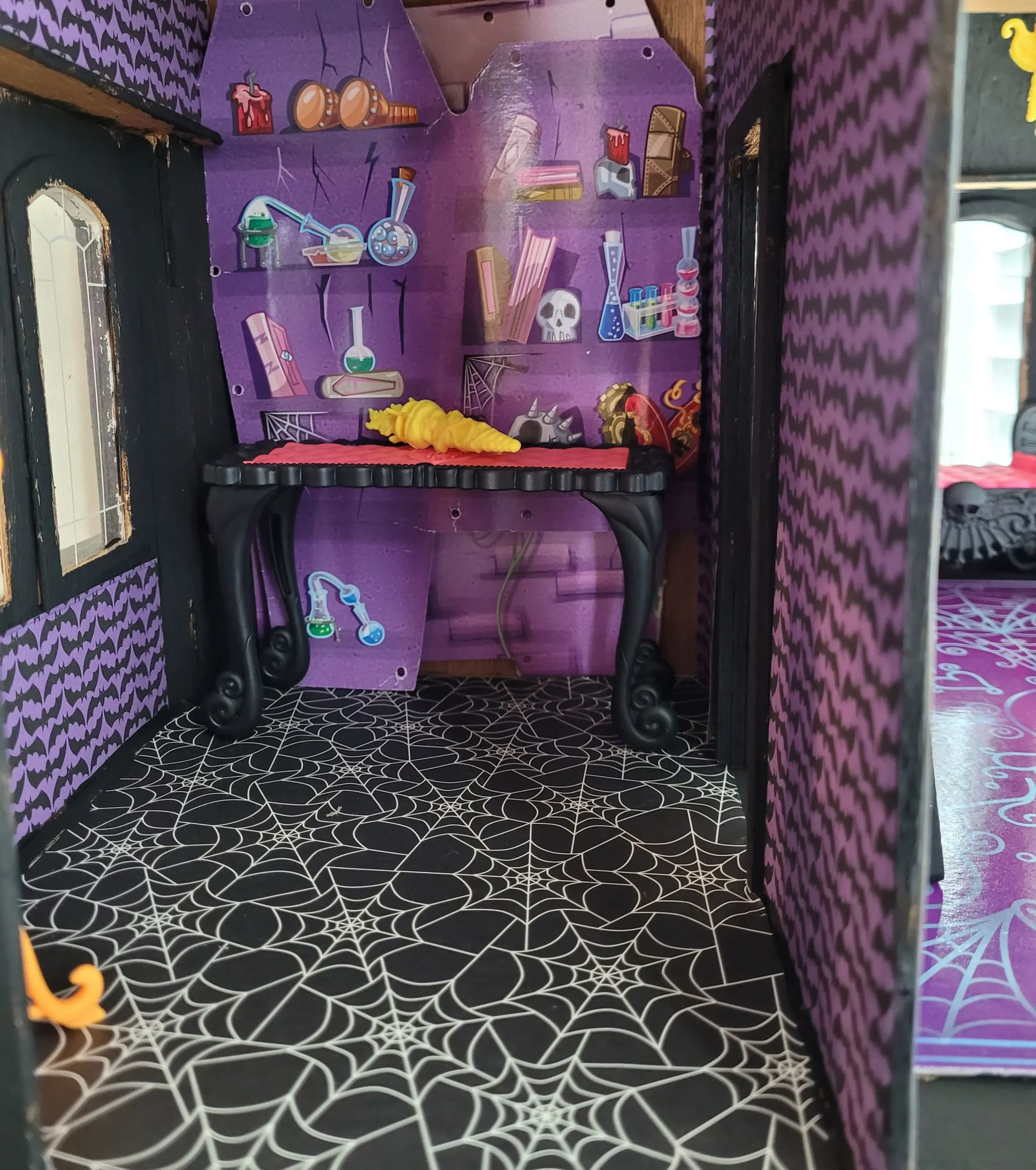 Of course, I had to get a mini skeleton bride and groom and a mini skeleton cat to represent me, my husband and our fur baby. They are the ones that get to live in and haunt this DIY work of art … which can be specially featured via social media, with the right music playing in the background and with the right lights giving the entire thing a creepy-cool glow.
For finishing touches, I added fake spiderwebs in and on the house, tealights to add an ambient glow and some ghosts in the windows (which were simply created with computer paper and a black marker). Finally, I was ready to set it out, on display, in the front and center of our home, along with our many other Halloween decorations.
While keeping our cat out of it has been a challenge, it is worth it; this is a special piece that will help enhance the spooky season for years to come!
Have your own spooky Halloween DIYs to share? Let us know! And you can check out more here.