Need a few more gift ideas? While we're happy to provide you with lots of gift guide options, sometimes a good 'ol homemade gift is just what you need! We've pulled our favorite jar gifts to give you plenty of quick and easy ideas sure to please! From teacher gifts to gift exchanges with your friends or co-workers, there's a little something for everyone!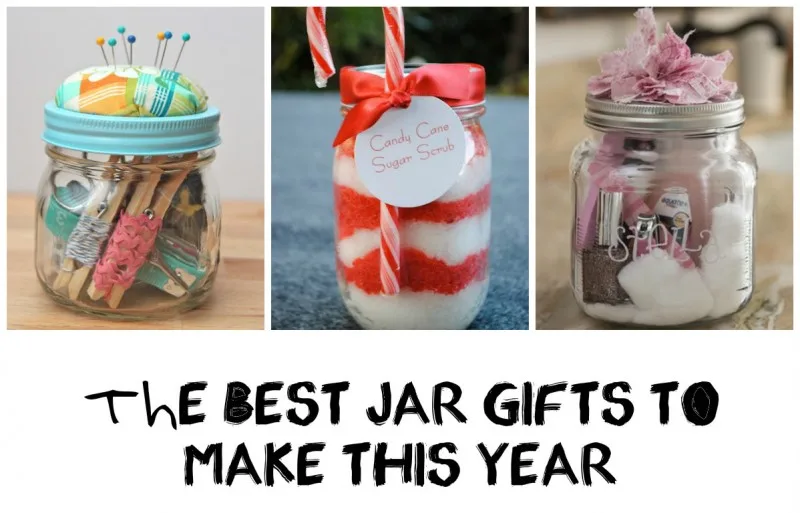 1. Cocoa & Marshmallows
About as delicious as they come, this cocoa recipe sounds amazing!
2. Lucky Day Soup
Dinner in a jar? Yes, please! This Lucky Day Soup sounds delicious!
3. Chocolate Chip Quick Bread
Quick bread in a bottle? They're gonna love it!
4. Sugar Scrub
Peppermint sugar scrub sounds divine! (And like the perfect homemade gift!)
5. Baker's Delight
How adorable is this little baking set? Plus, very practical for all the holiday baking that is sure to happen!
6. Sewing Kit
Both practical and adorable! You can customize this sewing kit however you'd like!
7. Andes Mint Cookies
Now this is a jar gift I can get behind! Andes Mint Dark Chocolate Cookies sound like Christmas dream come true!
8. Caramel Apple in a Jar
Taking your favorite teacher an apple? They'll love this Caramel Apple jar even more!
9. Golf in a Jar
Your favorite golfer will love this fun gift! Filled with golf balls, tiny pencils, a ball marker, etc. Get creative!
10. Manicure in a Jar
I know I'd love to receive a gift like this! Nail polishes, cotton swabs, hand cream- so many great items you could add!
Originally published December 17, 2015