Curious to know if the nail strip trend is here to stay? We're trying different products to see which ones are worth your time! Check out our Dashing Diva Gloss review to see if this is what your nails are needing!
I polled friends on Instagram the other day asking them if they preferred nail polish or nail strips/stickers. The results were pretty strongly in favor of traditional polish, I think it got almost 90% of the vote!
I get it, nail polish is what we grew up with and what we're used to. I know I have a billion bottles of it in my bathroom cabinet and while I'll always have love for those pretty little bottles, I wanted to check out the nail strips that are being produced today.
When I was a kid doing your nails meant either painting them or using plastic press-ons. And those were all fun and great until one flew off while you were going about your business. :) And there were nail stickers, but they were more like actual stickers that you applied on top of your polish.
When I got into high school nail art was becoming popular, which usually meant your pedicure might have a cute flower or starburst design, but that was about it. Cool designs and effects were something you were going to have to really invest in, both money and time.
The nail strips and stickers of today? Well, they've come a long way. What started with stickers that were so thick and hard to apply have lead to strips that look like (and sometimes are) real nail polish. They've got gorgeous designs, are easy to apply, are affordable, and often last longer than traditional nail polish.
This post contains affiliate links meaning purchases made through included links may result in Splendry earning a commission at no cost to you.
I'm on the hunt to try the best ones and while the first I tried was a success, I've recently had my eye on an even cheaper product that I could get at places like Target.
I first saw Dashing Diva Nail Strips from an influencer on Instagram and I was immediately intrigued. These under-$10 stickers were gorgeous. They had tons of colors and what I liked most was that each package came with a base color design and then three different accent nail designs to mix and match.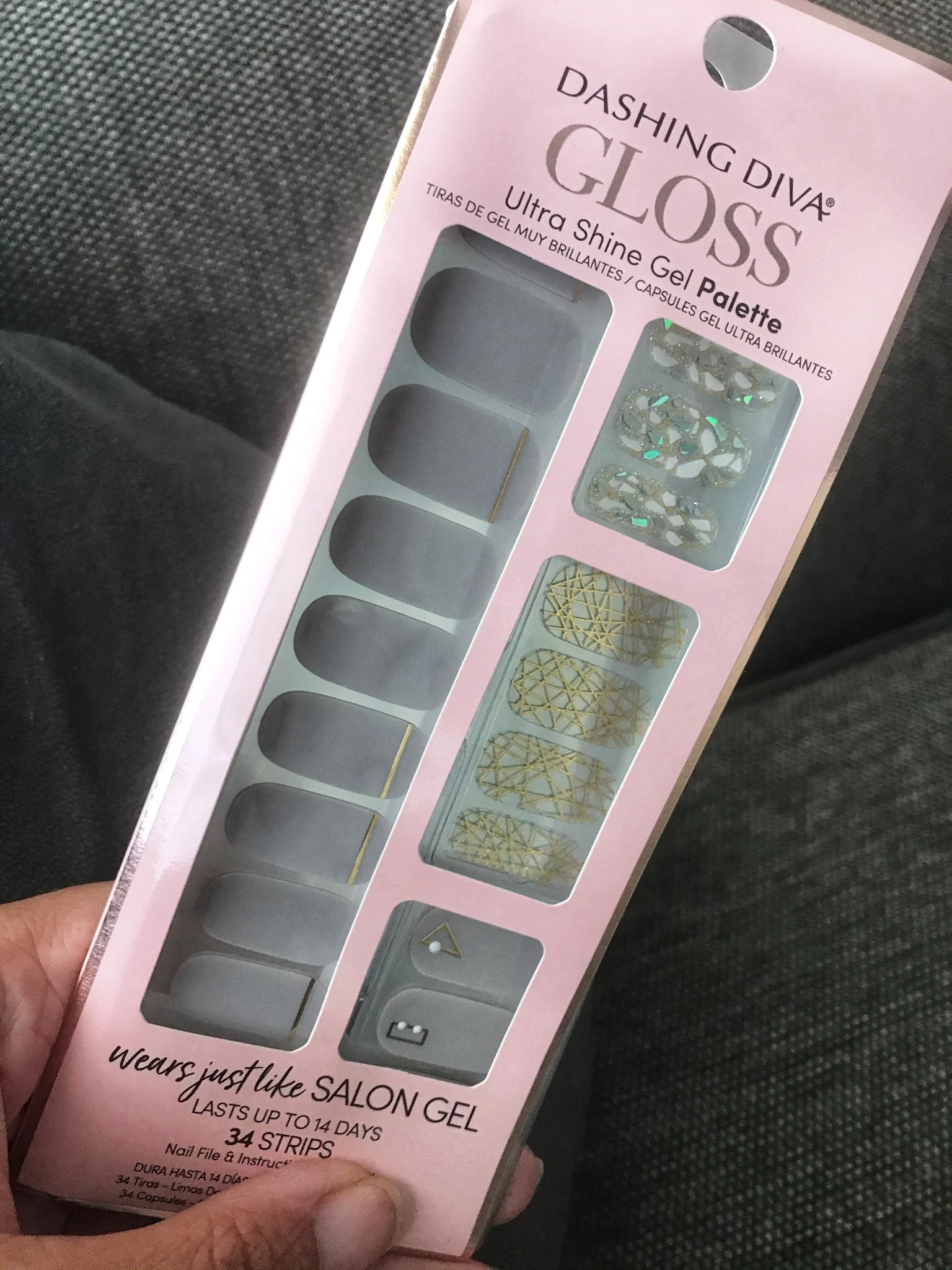 And these weren't just regular accents like polka dots or strips, but cool glitter or marbled designs that looked like they'd take hours to accomplish in a professional manicure.
Again, all under $10. BUT, were they too good to be true? I bought some to find out!
Dashing Diva Gloss Review
What they are:
Dashing Diva Gloss Ultra Shine Nails Strips that are made from gel polish. They don't require any drying time or soaking to remove them.
What they cost:
Between $7-$8, depending on where you get them. I've been buying them at Target and Ulta Beauty.
What you get:
Each set comes with 34 nail strips, 22 of the base color and three accent colors with four nails each. You also receive a nail file and instructions. There are a lot of different designs and colors to choose from.
Do they work?:
Yes! On my first application I didn't follow the instructions properly and didn't use an alcohol wipe to clean my nails prior to applying. This was an important step! While the nails still went on, the finish wasn't great and I wasn't all that impressed with them.
But my mother (who I had given a set to to try as well) loved them and told me she had followed the instructions and apparently that made the difference. :) Make sure you get your nails really clean and don't use any lotions on your hands for a few hours before or after you apply them.
I tried them again with proper prep and it made a huge difference. The last set I put on lasted two weeks with very little (and not very noticeable) chipping/buckling and I actually left them on for close to three weeks before removing them.
That's pretty much my Dashing Diva gloss review! I'd definitely buy them again and think they're worth the money.
Let me know if you've tried them and what you thought, you can also recommend some other nail strips and stickers to try! (So far I've tried Dashing Diva and Color Street.)
Want to pin this for later?