This post on affordable jeans on Amazon includes affiliate links meaning purchases made through included links may result in Splendry earning a small commission at no cost to you.
I got my first taste of designer denim when I was managing an upscale boutique in my 20s. Until then I had only ever worn cheaper brands that usually came from places like Target, The Limited (may the original RIP) or for special occasions, maybe Dillard's. I do seem to remember a pair of $50 Calvin Klein jeans being a special "starting high school" treat.
When I tried $150 jeans I was sold on the amazing quality. They didn't stretch! They fit amazing! And they made me look like I could afford $150 jeans, when really I was getting a pretty nice store discount with a clothing allowance. I thought my days of "cheap" denim-buying were over.
Fast forward a decade and I still wear those fancy jeans, but am back to needing some more affordable options too! Luckily, the quality of "cheap" jeans has improved over the years and I've actually found two pairs lately that I'm crazy about!
Between size changes, lifestyle changes, or just not wanting to shell out $100+ for denim, there could be a lot of reasons to seek out some more affordable options for jeans. One thing for me? I've got a toddler and frequently find myself covered in banana or other mystery substances that just make designer denim seem a little silly for me right now. Plus, if I can find great fitting, super flattering, long-lasting jeans for under $25, who cares about the label, am I right?
By searching high and low on Amazon recently for their highest rated brands I came across two pair that I wanted to try. I'm glad I did because I'm pretty sold on them both! Both of these pairs of denim are from the Levi's Signature Gold Label collection, which I had never tried prior to this. The reason I did? They both had thousands of great reviews!
Here's what I bought:
Affordable Jeans on Amazon (that Fit Great!)
I didn't realize when I ordered them but these are shaping jeans, meaning there's a shape wear panel in the waist. I didn't find it too be too tight or anything, they just feel like stretchy, fitted jeans! They currently have over 3,000 reviews on Amazon with an average star rating of 4.5. Pretty good!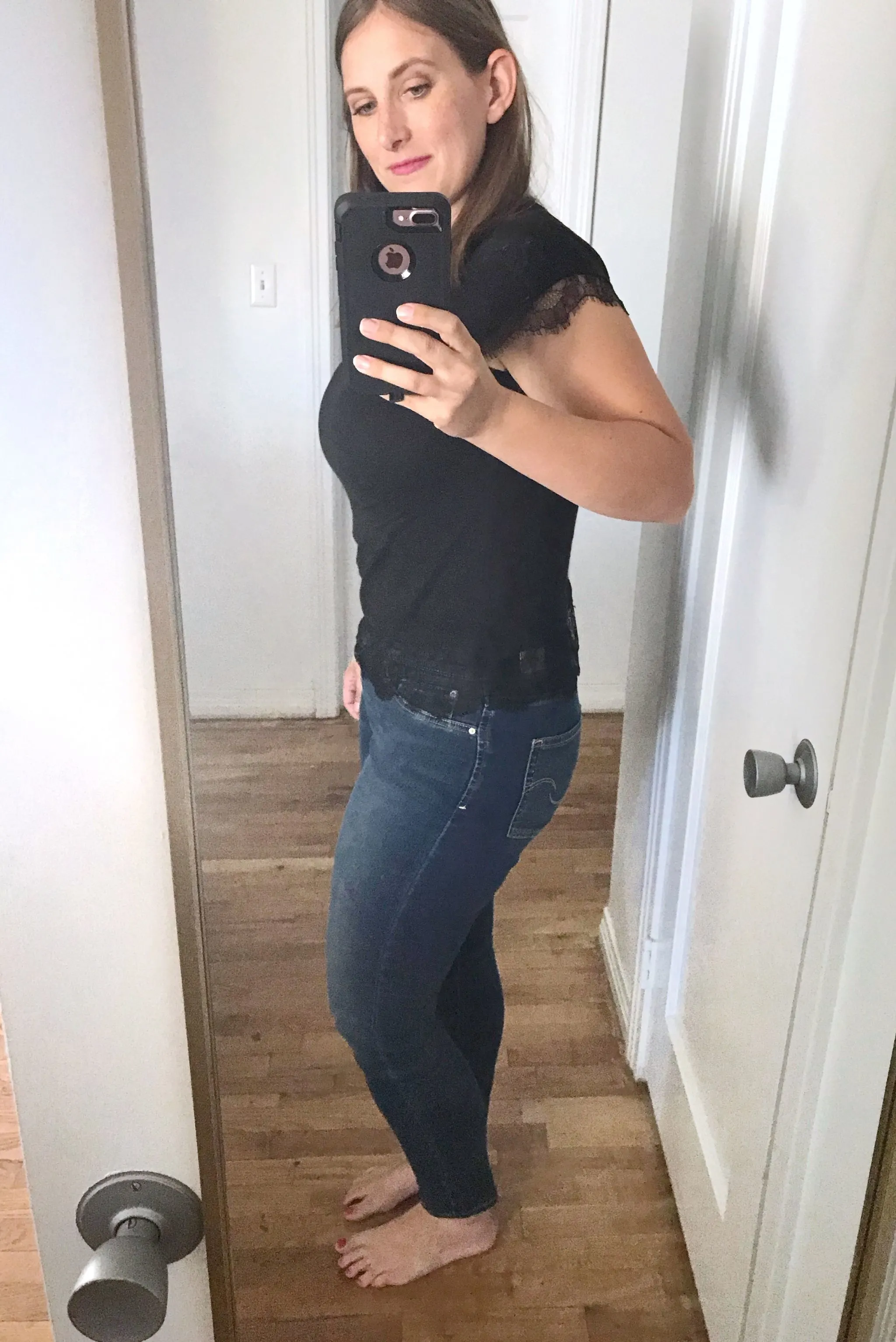 Things I liked:
The rise is a lot higher than most jeans I have so I wasn't tugging them up all day.
The material is super stretchy and thicker than traditional "jeggings" but they don't stretch out at all.
I've worn them now almost ten times without washing and they still fit great!
They come in several washes and also short, regular and long lengths, as well as plus sizes.
Things I didn't like:
Since they're a pull-on jean, they really look like jeggings if you have a shorter top on. With a longer top, no one would know they're not regular jeans.
For the price? I'll take them! I've worn them a lot since I bought them and know I'll be pulling them on all the time! (You can also see the full review I did on them here.)
I wanted to find a more traditional looking pair of jeans (not the jeggings style) and wanted a darker wash too. This pair also had over 3,000 reviews on Amazon, with a 4.4 average star rating. Worth a try for sure!
Things I liked:
The rise is not as high as the shaping pair but still not too low. I have to tug on them an average amount I'd guess.
The material is still stretchy but not as thick as the shaping pair. They feel more like traditional stretchy jeans than jeggings.
I wore them multiple times before washing and they held their shape well.
They also come in several washes and also short, regular, and long lengths as well as plus sizes.
Things I didn't like:
They came wrapped in plastic (typical) and had a kind of strong dye/chemical smell. I wore them a few times before I decided to wash them and the smell came right out. Obviously it wasn't so strong that I didn't wear them some before washing them, so don't let that deter you too much. :)
Overall for a cheap (under $25) pair of jeans, they're great. The last pairs of denim I tried in this price range (from both Target and Old Navy) were both big misses for me. I really wasn't sure I could find affordable jeans on Amazon I liked, but I did! Twice!
Both of these pairs are skinny styles, but I'm curious to try some other styles too. If I do, I'll let you know!